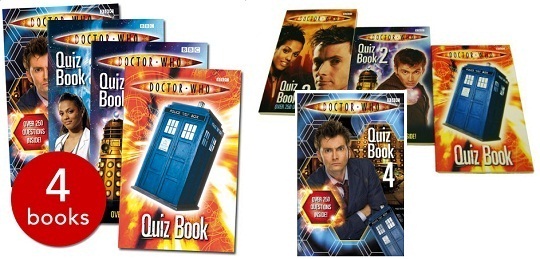 You get four books in the Dr Who Quiz Collection, priced at £1 - and that includes delivery. The RRP on this set is £19.96.
This is only a bargain if you or someone you know is a Dr Who fan, but if they/you are, then it is a fabulous bargain.
From the inner workings of the Tardis and the far-flung destinations of the Doctor to his battles with the Daleks and the strange creatures he meets on his travels, test your knowledge of the Doctor's adventures with this set of four brilliant quiz books. With over 250 questions in each book there are hours of mind-blowing fun to be had for obsessed fans of Doctor Who everywhere!
Books in this collection:
Quiz Book
Quiz Book 2
Quiz Book 3
Quiz Book 4
I'm not entirely sure if these quiz books go up to the current doctor, as played by Matt Smith. Quiz book 3 for instance, is the Doctor with Martha Jones as the companion. I would assume that Quiz book 4 has Donna as the companion. Still excellent value though and well worth forking out a quid for.
Thanks to andywedge at HUKD!