This cute little library of 6 board books is just £3.77 at Amazon right now.

For just a few quid you get six hard-wearing Mickey Mouse Clubhouse board books on a range of toddler-friendly topics including colours, senses, counting, animals, shapes and sharing. The stories are short and simple with the story on the left hand page and a picture on the right, as well as a question related to the story at the bottom of each page, so this little library is brilliant for interacting with your child about what you're reading together. On the back of each book is part of a picture so when you lay all the books out together you can make a large jigsaw-style picture of Mickey and his friends.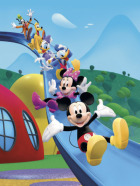 This little library gets some great reviews on Amazon, with happy customers saying their little ones love using the carrying handle to toddle about with their beloved book collection. According to the reviews the books seem to be especially robust, too, which is always good for toddlers as they're not exactly known for being light of touch or exactly gentle with their possessions!
With thanks to lucerysmum at HUKD