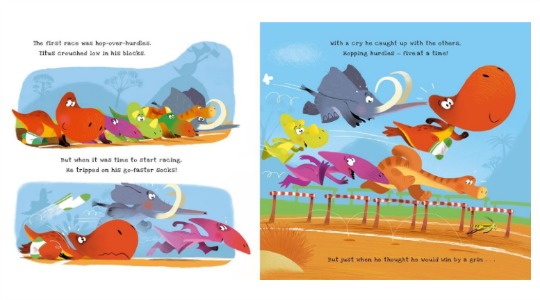 Amazon is currently selling the paperback version of The Dinosaur Games for just £1.40 instead of the usual price of £5.99.
According to the Amazon product description this cute kid's book is full of funny, fast-paced rhyming text with spectacular sporty illustrations.
If, like me, your house is in post-Christmas toy overload right now then a new story book might be just the ticket.
Out of 23 customer reviews this story book by David Bedford (author of over 40 books) has been rated 4.4 out of a possible 5 stars, and here's a fairly standard review to give you a sense of what people think of it:
"Written in rhyme, 'The Dinosaur Games,' tells the story of Titus the T-Rex who doesn't do well at Olympic sports and all the other dinosaurs beat him. However, when a meteor is heading for the Earth, Titus manages to whack the fiery ball and in doing so saves his friends and invents a new game. This is a bright, enjoyable and well-written story and my class of 7 and 8 year old really enjoyed it, although it would also be suitable for children from around 3 years and up. The Olympics theme is very topical at the moment and the message of taking part, trying your best and winning and losing are great for kids. Recommended."
You can also get free super saver delivery on this item, making it an absolutely stellar bargain.
With thanks to retrogamer @HUKD