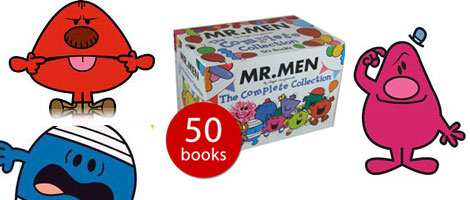 HURRAH!  The Complete Mr Men Book Collection of 30 books is finally back in stock at The Book People.
This is always such a popular collection and routinely goes out of stock pretty quickly, so if you keep missing out then hurry up and part with £30 - the full list price is £125 - to make sure you bag yourself a set this time.
I've written about this Complete Mr Men Book  Collection lots (at least it feels like it) and it still makes me smile - it reminds me of bed time stories when I was little (yes, I can remember that far back thank you very much!).
My first ever Mr Men book was Mr Silly, I was five years old when I chose it at our local WHSmith.  I don't actually remember this at all but I know it to be true because I have a newspaper cutting of me helping Mr Silly sign my copy - he was doing a book signing there you see, which is why I chose his book.
My second Mr Men book was Mr Forgetful - this is the one I remember the most and thinking back to my little self giggling every time my mum read Mr Forgetful proclaiming, "there's a goose asleep in the rain!" to Farmer Fields, rather than there being a sheep loose in the lane, just makes me feel all warm with nostalgia.
Now - here are couple of discount codes for you:
AFOUTSIDE will bring the price down to £27 (a further 10% discount) but ONLY if you're a new customer with The Book People
AFAUGUST should bring the price down to £28.50 (a 5% discount) however, it didn't work for me but it has for others
In addition to all of this, home delivery of your Complete Mr Men Book Collection is FREEEEEE.
Thanks to controlfreak at HUKD