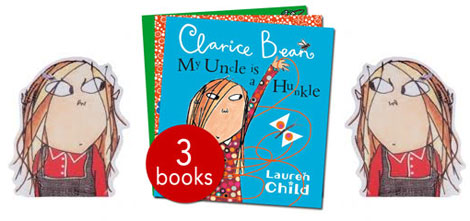 The Book People have a rather nice little deal on this Clarice Bean Book Collection; it's rrp is £17.97 but The Book People would like you to have them for £4.99.
You might not know who Clarice Bean is, but if I said 'Charlie and Lola' to you then you'd know the author, Lauren Child.
Well, she is also the brains behind Clarice Bean and she is, quite frankly, wonderful (Clarice Bean I mean, not Lauren Child, although I'm sure she is too!!).
Three books make up the Clarice Bean Book Collection and whilst the age range is described as suitable for three years or over, a couple of reviewers have suggested that this should be more like between five and seven for independent reading.
Although, of course, YOU can read them to your child from any age and they'll love looking at the illustrations too.
Here's what some others have to say about the Clarice Bean Book Collection:
"Clarice lives with her parents, her grandfather and her 3 siblings and has the usual stresses and strains of a 6 or 7 year-old! These books are HILARIOUS - but the jokes are as much for the adults as the children."
"An absolute treat for both child and parent. My daughter absolutely loves these books and my husband and I love hearing her read them and giggling throughout no matter how many times we read them. A must for every childs home library."
You should know by now that I don't like paying for delivery unless I r e a l l y have to, so I've got a free delivery code for you too *grin*  Just enter this code to your basket: 225A1B
Welcome to the world of Clarice Bean!