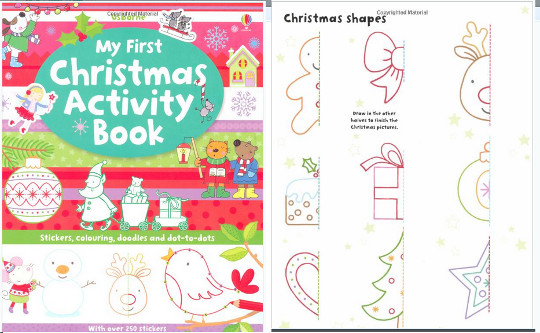 Amazon have an Usborne, My First Christmas Activity Book on sale with a 40% reduction. Normally priced at £7.99 it is now £4.79 and comes with free UK delivery.
I have a 19 hour flight with two children under 3 on my own coming up in the near future, and in attempt to save my own sanity, and that of other passengers, I regularly find myself browsing the world wide web looking for cheap and cheerful activities. That worked a treat on numerous 12-hour flights with one, so... I'm hoping to pull it off again! In my browsing I found this activity book, and it looked like loads of fun.
This book offers 60 pages of Christmas themed fun, with colouring, doodling, dot-to-dot pages, stickers and a host of other things, including cut outs for decorations and for making your own Christmas scenes. It seems to combine two previously existing books: "First Sticker Book: Christmas" and "First Colouring Book: Christmas" with new doodling and dot-to-dot activities.
It's an  Usborne book, so if previous purchases are anything to go by, this will be a good one too. You can view a few pages by clicking on the image on the Amazon site.