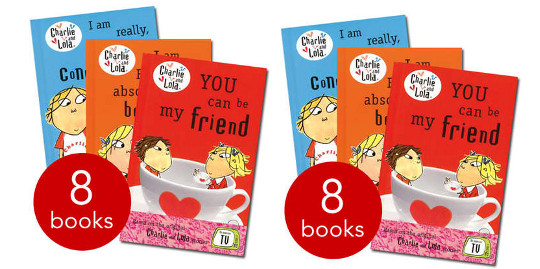 There have been a few deals surfacing from The Book People the last few days, but their deals are so good at the moment, Christmas th0is year may resemble a library sale! Tonight's offering is a Charlie and Lola Mini Rucksack with 8 books for £6.99 instead of £20 and, if you use the code below, you'll also get free delivery.
Take Charlie and his sister Lola with you for an absolutely completely good read*
Discount: Free Delivery
Discount Code: XMAS262
My three year old loves Charlie and Lola. Not a day passes at the moment where she doesn't consider herself Lola, and call me Marve. I don't even have a leading role - I'm Marve and daddy is Charlie. Nice.
"Starring Lauren Child's popular sibling duo, Charlie and Lola, this mini rucksack contains eight brilliant stories about friendship, learning and dressing up, as well as a range of other topical subjects that young children will relate to."
The backpack itself is sure to be a winner and whoever thought that it would be used to store them in clearly doesn't have a toddler, because I think it'll be used for the latest collection of rocks or whatever the flavour of the day is! Here's list of book titles in the collection:
Boo! Made you Jump
I Really Absolutely must have Glasses
You Can Be My Friend
I am Really Really Concentrating
But I am an Alligator
HELP! I Really Mean it!
I am Extremely Absolutely Boiling
I Want to be Much More Bigger Like You
Thanks to missgem at HUKD