Charlie and Lola Magnet Book £4.99 @ The Book People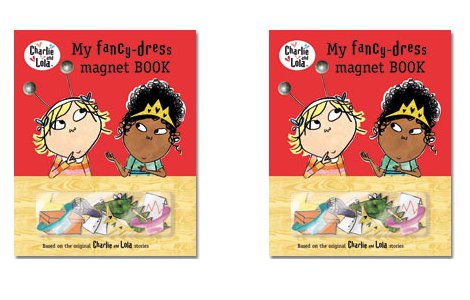 The Book People are selling this Charlie and Lola Magnet Book for £4.99 - £8 less than its rrp price of £12.99.
I love Charlie and Lola!
A few months ago I was in the park with my youngest, and we saw a boy who was the SPITTING image of Charlie – it was quite unnerving actually and I resisted the temptation to look around for Lola!
I don't know anyone who isn't totally smitten with Charlie and Lola, Charlie has…
"…a little sister Lola, she is small and very funny."
Ahhhh it just reminds me of bed time with my youngest when he was a couple of years younger.
Charlie and Lola were on TV at just the right time for post warm bath, in pyjamas and hot milk viewing which was followed by bed and more Charlie and Lola with bed time stories.
This Charlie and Lola Magnet Book looks like lots of fun - it has nine magnets which will allow young Charlie and Lola fans to mix and match and mash up outfits for Charlie and Lola to wear to Marv's party.
They can go conservative with their choices or really let their imaginations run riot, and come up with some outfits that would make even the most kooky fashion designers proud.