Charlie And Lola Book Collection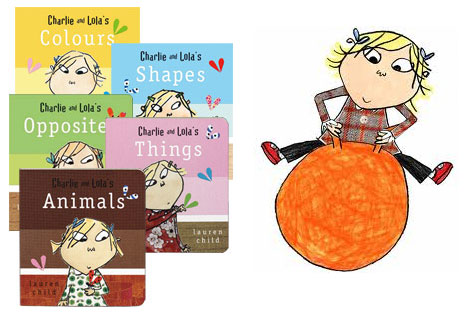 A Charlie and Lola Book Collection; hurrah! I do love a good book deal AND I'm rather fond of Charlie and Lola!
Charlie and Lola have been such a HUGE hit that
a) I wonder if it's wrong to feel jealous of Lauren Child who created them and
b) whether there has been an explosion of little girls being named Lola…?
They really are the perfect brother-sister pair; Charlie is older, patient and wise, Lola is hilarious, impatient and younger.  She asks some brilliant questions and good old Charlie tries his best to answer them.
I'm trying to think whether we've ever met Charlie and Lola's parents – I don't think we have, they're just sort of 'implied'.
I don't know anyone who isn't totally smitten with Charlie and Lola, Charlie has…
"…a little sister Lola, she is small and very funny."
These five chunky board books are ideal for really little book worms, the titles are:
Charlie and Lola's Things
Charlie and Lola's Animals
Charlie and Lola's Colours
Charlie and Lola's Shapes
Charlie and Lola's Numbers
Charlie and Lola's Opposites
They are up for grabs from Books Direct Bargains for £6.99 (the rrp is £29.94) and delivery is free too as you've spent over £5.