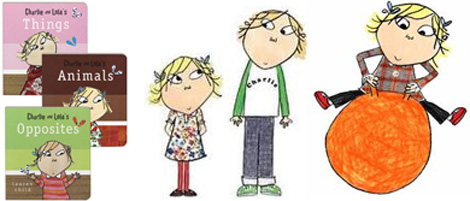 Books Direct Bargains have a lovely little deal on this Charlie and Lola Board Book set of three books; at 50p a book you really can't go far wrong!
I love Charlie and Lola!
The other day when I was in the park with my youngest, we saw a boy who was the SPITTING image of Charlie - it was quite unnerving actually and I resisted the temptation to look around for Lola!
I don't know anyone who isn't totally smitten with Charlie and Lola, Charlie has...
"...a little sister Lola, she is small and very funny."
Ahhhh it just reminds me of bed time with my youngest when he was a couple of years younger.
Charlie and Lola were on TV at just the right time for post warm bath, in pyjamas and hot milk viewing which was followed by bed and more Charlie and Lola with bed time stories.
These three board books are ideal for really little book worms, the titles are:
Charlie and Lola's Things
Charlie and Lola's Animals
Charlie and Lola's Opposites
If you spend over £5 with BooksDirectBargains then you'll get free delivery, so it's worth looking around to see whether anything else takes your fancy.
Or perhaps order three sets and keep them in the pressie drawer for those last minute present dramas!
Thanks to j1983 over at HUKD!