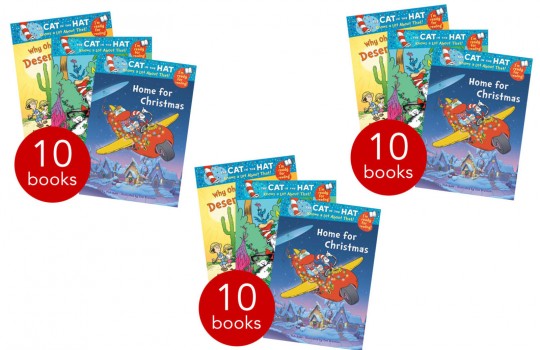 The Book People are selling the Cat In The Hat 10 Book series for £9.99.
These are quite tricky, actually. On the one hand, if you have a Dr.Seuss lover, but you've run out of books, the Cat in the Hat is a nice add on. At the same time, if you're a Dr.Seuss lover,  you might be a little offended at the use of Dr.Seuss's cat to lead this new series. It's quite like Dr Seuss, but just not.
Nick and Sally run out of honey, play hide and seek and learn about the North and South Poles and why deserts are dry in this eight-book collection starring the famous Dr. Seuss creation, the Cat in the Hat. Specifically designed for early readers, the books will introduce new words and concepts with the engaging and colourful characters and easy-to-follow plots. Seuss-style rhythmic text is also used to make the books even more fun and accessible!
Titles in this collection
Ice is Nice
Why oh why are the deserts dry?
Safari so Good
The Tree Doctor
Hooray for Hair
Now You See Me
If I Ran the Horse Show
If I Ran the Dog Show
Show Me the Honey
Home for Christmas
Happy reading!
Thanks to andywedge at HUKD