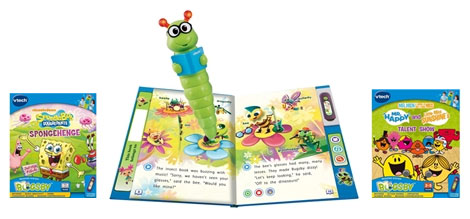 Vtech have, for the time being, reduced the Bugsby Reading Systemdown to £9.99 from £29.99; this is such a good price for this that you'll probably have to be quick to get your hands on one.
I admit it, I prefer REAL books; the ones that have pages made from paper that make a lovely sound when you turn them.
But with reading standards in the UK well below what they should be for lots of kids, I'm happy to go with anything that inspires a love of reading books regardless of their format.
The Bugsby Reading System is an expandable system with other Bugsby story cartridge titles available featuring well-loved characters like Scooby Doo, Sponge Bob Square Pants and the Mr Men and Little Miss.
Vtech also have five story cartridges on special offer too - £4.99 instead of £12.99.
The pen used to interact with the book is Bugsby himself –  he's a Bookworm who will, and I quote, "take your child on magical adventures of reading and discovery." They can even create their own stories too.
Bugsby's little antennae light up, he has volume controls, a jack to plug headphones into (not included) and there's no need for additional computer software either, just put the story cartridges, and 3 AAA batteries (again, not included) into his back and he's ready to go!
I've written about Bugsby before and each time I search for bad reviews - I've yet to come across one, so you really aren't going to go wrong with this Vtech purchase.
The Bugsby Reading System is aimed at young readers aged between three and seven years old.
Thanks to goonertillidie at HUKD