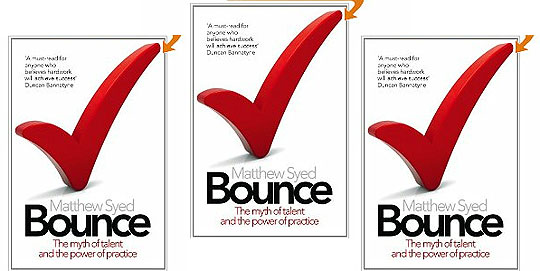 Father's Day is rapidly approaching (Sunday 17 June, in case you didn't know) and if you're looking for a present that's just a little different from the usual pairs of socks, that is interesting and has some value the you should take a look this book by Matthew Syed (he's one of the UK's most successful International Table Tennis players).
It's called Bounce - The Myth of Talent and the Power of Practice and you can pick up a copy for a couple of quid less than its full price over at Amazon, £6.29 instead of £8.99.
One of my husband's colleagues gave him this book for Christmas and he devoured it within days and then gave it to me to read.  It explores the arguement for practice over 'talent' and suggests that anyone can become an expert and professional in something if they practice enough.
The widely accepted number of practice hours to become expert at something is 10,000 (good old Malcolm Gladwell) and this has proven to be true again and again and again.  Bounce is a superbly written book that's utterly fascinating, will pull you in and leave you wanting to make a dent in a fair few practice hours of whatever you'd like to be expert at.
I think it should be compulsory reading in senior schools - any youngster who takes heed of its message will be one step ahead of the game, and the great news is it's never too late to make a start on those hours.
Happy practicing!