Bookadoo Books Discount Code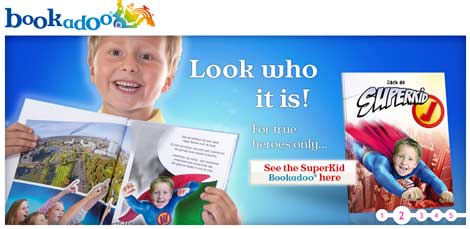 Here's a Bookadoo discount code for you that will give you 25% off the rather fabulous Bookadoo products.
Discount: 25%
Minimum Spend: £0.00
Promotional Code: BELLABOOK
Click HERE to go on over to Bookadoo
Well now, I was rather pleased when I came across this Bookadoo discount code this morning as I was lucky enough to be sent one to review a couple of weeks ago!
Bookadoo books come in hardback or softback covers and the star of the story can be anyone you like - yes, there are books for grown ups too!
If you're looking for a special and unique gift then I really suggest you have a look at these - you send Bookadoo a picture of the person the gift is for and with a bit of magic jiggery-pokery their head is super-imposed onto the main character's body. There are choices for girls and boys (men and women) and they also do height charts too.
I had the review book made for my youngest and he absolutely ADORES it - when he saw his face looking back at him from the pages as 'Superkid' he just beamed, that smile was utterly priceless.
Whilst I'm on the subject of price - the softcover books retail at £17.95 and the hardcovers for £24.95, so make sure you add the BELLABOOK Bookadoo discount code to get 25% taken off those prices.
Thanks to PaulDoc666 over at HUKD!