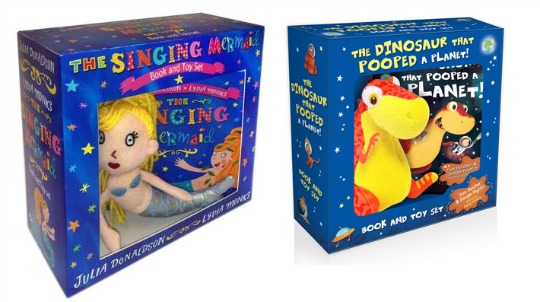 There are a couple of gift sets at Amazon that have been slashed in price all the way down to £2 each, ideal to grab if you have Prime, or are looking for something cheap to top up an order to meet the free delivery threshold.These are also really popular books, so you should have no problem finding children who would love one of these as a gift!
They are "The Dinosaur That Pooped A Planet" and "The Singing Mermaid". Each set comes with the book and a soft toy of the main character, the singing mermaid or the poopy dino.
If you haven't heard of these books then you are in for a treat.  The Dinosaur That Pooped A Planet is the follow up to The Dinosaur That Pooped Christmas, and it's just as funny as the first one. I think you can tell from the title what sort of humour is enjoyed in this book, so make sure it's suitable for it's recipient!
The Singing Mermaid is a book by award winning Gruffalo author Julia Donaldson, and as well as the toy mermaid you get instructions of how to make a mermaid necklace in the set.
Delivery is free for Prime members, but will add another £2.75 for non-prime customers. The good news is that the free delivery threshold for books did not increase when the rest of Amazon's delivery charges did, so you only have to spend £10 on books to get free super saver delivery.
Thanks to Mrymit @ HUKD