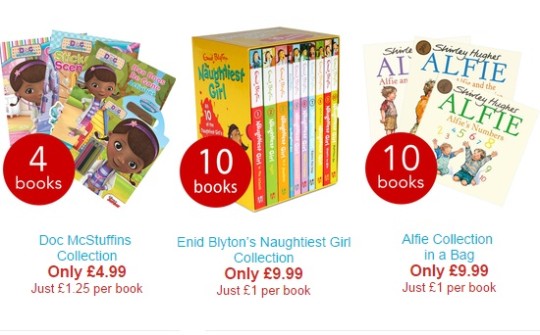 The Book People have offers on their book sets right now, with sets from £1.99, and books at under £1 each.
My Favourite Rhymes Ladybird Minis Set * is £1.99 and contains two books  full of gentle rhymes and favourite lullabies. There's a Tree Fu Tom Collection* for £2.99 and Mike the Knight: Welcome to Glendragon Collection* is a 5-book collection for £3.49.
For the slightly older, the LEGO Friends Readers Collection* is £3.99 for the 4-pack, and there's a Doc McStuffins Collection* for £4.99 for the four books.
Little ones looking like budding artists might enjoy the How to Draw Collection* for £4.99 and for the inquisitive the First Fabulous Facts Collection looks like a great little gift set.
I'm even toying with buying the £6.99 five book My Favourite Princess Tales Collection* for goodie bag gifts for my daughter's birthday party!