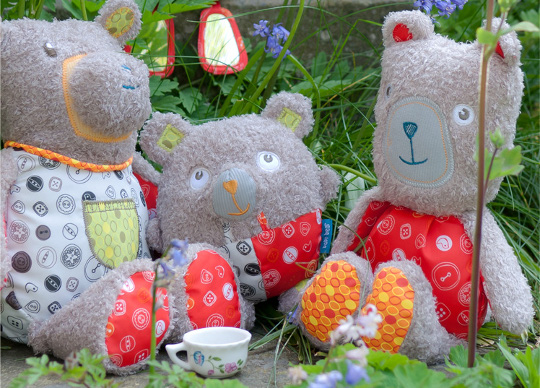 Little Bird Told Me is a company that specialises developmental activity toys, innovative infant rocking animals and nursery accessories, all of which are presented in beautiful eco-friendly gift style packaging. Their toys are built to last, and they consider seriously the impact they have on the environment around them, so they use recyclable and biodegradable materials.
Little Bird Told Me have a 'low tech' approach with their products, and they don't use electronics or batteries, and they minimise packaging and plastic, favouring biodegradable cardboard and tissue paper – saying that, both my toys arrived in cardboard and wrapped in plastic bags.
We were sent the Papa Bear Hug Toy* and the Birdy Bear Activity Toy*.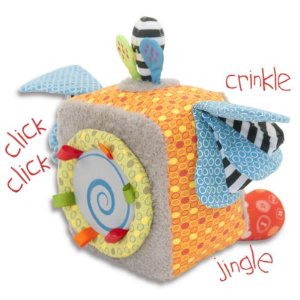 Both arrived in perfect condition, well packaged as described above. These are really beautiful toys. I can't sing their praises enough.
Papa Bear is a teddy bear, with a square-ish head and button patterned body. There's not a huge amount to say about him. He's cute, but he doesn't do much. Honestly, if you can afford it, go for the full family though. Papa Bear is cute. Mama Bear is cute, but Baby Bear is just so gorgeous. See, Papa bear has a blue material body, and Mama bear has a red material body – with the same buttoned material, but Baby Bear has a half and half body, which literally made me go 'awwwww' when I saw the pictures online.
But, it's a bear, and I can't really say much more than that he's soft and cuddly and my toddler ran off with him long before my baby had any chance at getting acquainted.
The Birdy Bear Activity Toy (£17), however, which is suitable from six months old, is a fantastic interactive toy and one the baby screams for if the toddler runs off with it. This is such a sweet little toy, with so many different bits to pull and suck and chew on. The feet have baby safe mirrors, there are bits that squeak, much to my daughter's delight, and bits that rattle and jingle.
The eyes and mouth seem positively smiley, and friendly, somehow, and the wings crinkle in a way that totally appeals to a six month old.
Behind the birdy – on her back – there's a clicking rotating dial. The baby hasn't figured this out yet, but she will, in time. On the dial are little tabs for them to hold on to while they pull – like you find on taggie blankets and so on. Very sweet.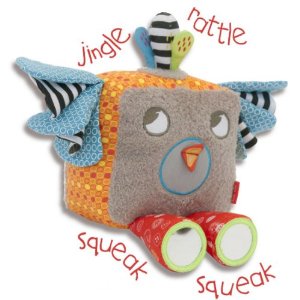 The square birdy is 31x33x15cm, so not a handbag toy, but rather a full size fun cube.
The way these get chewed on and played with, I'd really like to know if they can be washed – I suspect Papa Bear would be fine in the machine, but the cube probably not – or at least not in the tumble drier. That's probably the only slight negative, because they are getting a little grubby, but I don't really want to put them in the machine and risk losing something my kids love to play with.
I'm not sure whether I think these are expensive or not. I realised a few days ago that I consider everything expensive! Most of my shopping is done at Nearly New Sales, and our area has a very active '2nd hand sales' community board and I do most of my shopping there – mostly because I hate the thought of adding to landfill! So to me, toys in double figures are definitely expensive. That all said though, these are amazing quality, and I do think they'd last a really long time and be something a child can treasure in years ahead.
My toddler has had a room full of soft toys since her birth, and it's really only been in the last six months that she's developed favourites, needed a specific toy to go to sleep with, or formed bonds with any of them. I think Papa Bear is one such toy that we can keep especially for the baby, when she reaches that stage. I think they're fantastic heirloom toys and would make beautiful, memorable Christmas presents.
Writing that reminded me of a brown teddybear I received from a distant relative for my fifth or sixth Christmas – I still have it in a box in the garage. I can see Papa Bear especially being as treasured a keepsake for my little girl.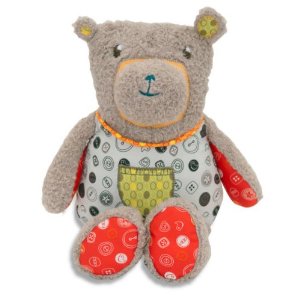 The Good
These are really beautiful toys and gifts. They would make the receiver and giver equally happy.
Excellent quality from a fantastic company
Bright, bold colours and unusual and special designs
Lasting toys that will be usable for a long time.
The Bad
Absolutely nothing I can think of at all
The Verdict
I've been to four babyshowers this year, and have three more friends having babies before Christmas. As far as I'm concerned these products – and others from the Little Bird Told Me product range – have Christmas wrapped up for the under 18 month crowd.