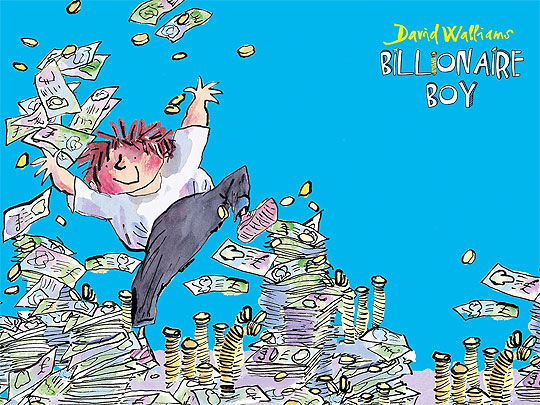 My youngest son has just had his sixth birthday and one of his friends gave him a copy of Billionaire Boy, by David Walliams, and it's caused a bit of a family 'issue'.
I haven't read any of it yet and neither has he; he's busy reading a different book at the moment but his dad has been so desperate to get started on Billionaire Boy that he's reading it in secret!
Amazon are selling paperback copies for £3.85 instead of £6.99 and the complete, unabridged, audio version for £6.99 instead of £9.99.
Billionaire Boy is a tale about a boy called Joe; he's twelve years old and the richest boy in the land.  He has his own cinema, his own bowling alley, an orangutan - who also happens to be his butler too - and he wants for nothing...except a friend.
There are plenty of reviews to read through, from both parents and children, and the overwhelming theme is: it's very funny, has a few sad moments and an ultimate moral of the story to learn from.
Parents of reluctant readers can rejoice too - by all accounts, even the most reluctant of readers have devoured Billionaire Boy by David Walliams and gone on to read his other stories too.
Happy reading!