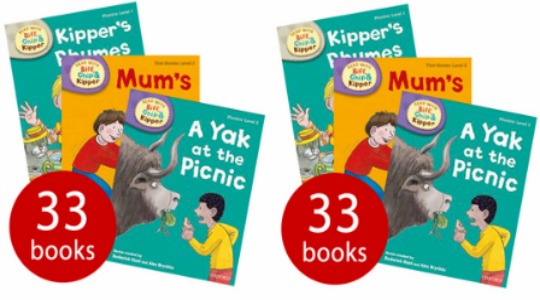 Teaching your children to read at home can really bring them on. It's nice to be able to give the kids a helping hand alongside their school learning. These Biff, Chip and Kipper Books are so popular for those just starting out on their reading journey. The Book People are selling the Biff, Chip and Kipper (Levels 1-3) 33 Books Collection for just £16.99 at the moment, which works out at 51p a book. Use promo code BOOK15 or WELAUTUMN and get FREE delivery too!
Here are the titles included in the Biff, Chip and Kipper Collection from The Book People: Biff's Fun Phonics, Kipper's Rhymes, The Pancake, A Good Trick, Mum's New Hat, Picnic Time, Win a Nut, A Yak at the Picnic, Helping Your Child To Read, The Red Hen, Poor Old Rabbit, Super Dad, Shops, I am Kipper, The Backpack, Floppy Did This, Up You Go, Floppy's Fun Phonics, Get On, Such a Fuss, Kipper's Alphabet I Spy, Six in a Bed, The Sing Song, Funny Fish, Silly Races!, Cat in a Bag, Biff's Wonder Words, The Snowman, I Can Trick a Tiger, Floppy and the Bone, Dad's Birthday, Chip's Letter Sounds, The Fizz-Buzz.
I am tempted to get this and split it to put in my children's stockings at Christmas. The good thing is because the books are level 1-3, they will appeal to them for a little while, even as their reading improves.
Thanks to andywedge @ HUKD