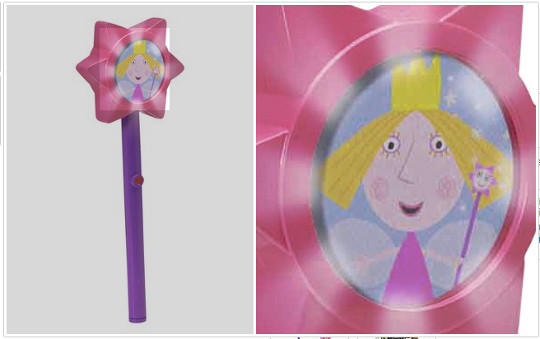 Both Amazon and Very.co.uk have the Ben and Holly Magic Wand on sale for £7.50. This is reduced from £14.99 at Amazon and £16 at Very.co.uk, and both come with free delivery.
I must admit that I don't know much about Ben and Holly. I've seen it on TV, but I couldn't tell you who is who or who does what. What I do know is that Ben and Holly fan or not, any toddler who likes to dress up will love this wand. My daughter is forever 'dinging' us with her imaginary wand now, so knowing where the ding is coming from will be  anice change.
This wand apparently has sounds just like in the show. There's a mirror on the wand and apparently when you press the button on the want the image 'walks' into it giving you your very own walking and talking prince
It has five phrases which repeat, making it quite an interactive toy, which is bound to be loved by little magicians and fans everywhere.
Thanks to babyblue and Hawkins Boots at HUKD<