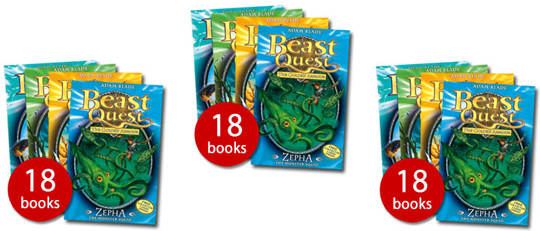 I consider myself very lucky that both my boys (17 and nearly 6) are serious bookworms.  I've loved reading books my entire life and find it really hard to imagine a life without them - for plenty of boys, in particular, this is a reality: reading is boring, it's not cool and any undertaking of it is done under serious duress.
This Beast Quest Collection of books - just £16 for 18 books, instead of  £89.92 - has already lured thousands of the most reluctant of young male readers into the world of reading and swept them away into the stories they contain; hurrah!
Tom is the hero of the day and in each book he has a new, and evil, enemy to battle; Tom is on a mission, fighting his way through Avantia, to stop the evil wizard - I'd quite like to read them myself having just written that!
If you want to try and develop a love of reading within your son - or already have a bookworm boy - then these books are well worth taking a look at, and you don't just have to take my word for it:
"At last my son loves reading, he can not put these books down. It is a joy to see him read and hopefully this will improve his writing skills too."
"I bought these books for my 9 year-old son for Christmas, he loved them. They are reading them at school so all his friends have them too. The price was so good, in any book shop they are £6.99 EACH so what a bargain for all 3 series"
"I bought this collection for my six year old son who absolutely loves them, brilliant adventure stories and the extra collector's cards are a big bonus too!!"
I think that settles that then.
Here's to boys loving reading!