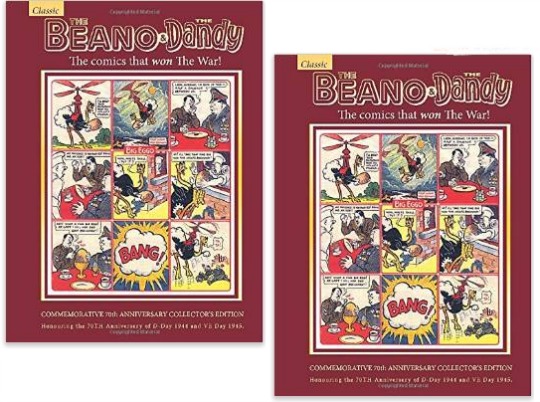 The Beano and The Dandy have been on the go for way longer than most of us have been alive. Here's a chance to look back at the editions from wartime. Amazon are selling this for just £1.99. Any annuals released by DC Thomson like The Beano or The Dandy are highly collectable, so it's worth bearing that in mind. You won't get this in time for Christmas but most likely in the days that follow, so if you have nieces or nephews that you won't see until after this may just be for you.
This annual will appeal to more adults than children, but I feel it might actually get children asking questions about World War 2 and other historical events, and surely that's not a bad thing.
Obviously, this annual features reprints of The Beano and The Dandy comics that were released around the time of war. It'll have the typical tongue-in-cheek humour that these famous comics always contained, so don't worry about it being all doom and gloom, becuse it won't be.
The Beano and The Dandy Annual is way under the threshold for FREE Super Saver delivery, but just add it to an order for £8.01. Something like this Dennis the Menace T-Shirt*.
Thanks to redrhino @ HUKD