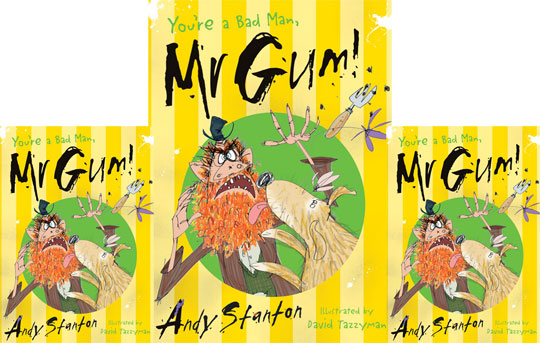 If you're looking for a new book to add your young one's library then you might want to consider 'You're A Bad Man, Mr Gum!' by Andy Stanton; WHSmith are selling it for £1.99 instead of its usual £5.99 - so are Amazon in fact, so if you'd prefer to go there you can, or if Smiths sell out or put the price back up you have another option.
My youngest son adores books and stories, both having them read to him and him reading to you - I've just put a copy of You're A Bad Man, Mr Gum! into my basket.
I wasn't going to take much convincing to buy this  book, it was this comment that finally pushed me over the edge...
"This book is so funny and mad we loved it! When we got my dad to read it out loud he started crying with laughter and couldn't speak. A great laugh!"
And then this one made me actually click PAY NOW...
"I read this with my 5 year old son yesterday and we spent the whole London-Milton Keynes return train journey in hysterics. (obviously we got off the train in between). Fellow commuters were looking over to see what we were reading.
The type of humour in this book is intelligent as well as silly, and the way the book engages with the reader is very clever. My 5 year old loved it, but as it also appealed to 37 year old me, I can say it has a far wider audience. Can't wait to read more in the series."
I can't wait for it to arrive already - if only there was one-hour delivery for proper paperback books! - and I might just have to read it myself first before I hand it over to Edward!
Thanks to SNEEZY at HUKD