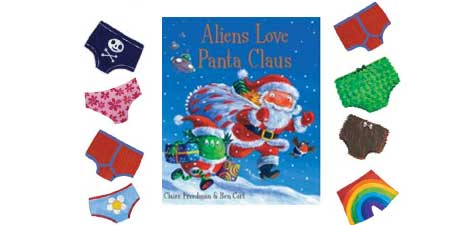 The Book Depository have a rather nice little deal on the wonderful Aliens Love Panta Claus story by Claire Freedman.
There are a few things which are always guaranteed to make kids laugh and they generally involve pants, knickers, weeing and farting!
What can I say?! Books about aliens and underpants are guaranteed to be a hilarious hit with the kids...and, let's face it, most grown-ups too *grin*
Claire Freedman, the author of Aliens Love Panta Claus, also penned the wildly popular Aliens Love Underpants - if you have that one, then your kids are going to love Aliens Love Panta Claus!
This time, instead of stealing underpants, the aliens are in generous festive mood and want to GIVE everyone underpants, so they enlist the help of Santa Panta Claus.
The reviews for this lovely book are fantastic - here's a little snifter of what others have to say about it...
"Bought this book for my daughter as she absolutely loves the other three books in this series. Anything about underpants makes her laugh and this one is even better as she loves Santa too."
"This was a book that I bought to read to my grandchildren (aged 6,4 and 2 two year olds), they loved it and so did I, we all laughed as it is very funny. Highly recommended as a good fun read."
The usual retail price for Aliens Love Panta Claus is £5.99, The Book Depository are currently letting it go for £2.97 and with free delivery too.
Thanks to lucerysmum over at HUKD