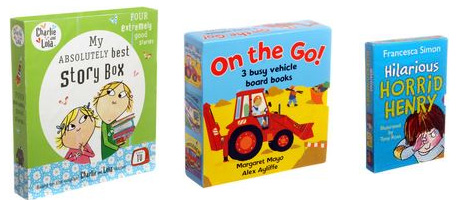 If you're looking for some book bargains then these (up to) 75% off children's box sets and gift books at WHSmiths is a deal you should look at.
If you're a regular reader you'll know that I love books; if you're a new reader (welcome), I LOVE BOOKS!
I always loved getting box sets of books for my birthday and at Christmas time. There was just something about having all of them together in their special box that made them extra special.
I still get a thrill out of book box sets now - even the Little Library ones that I bought for my youngest a couple of years ago, made my heart jump for joy.
Looking at all the book box sets on offer at WHSmiths is like a chocaholic going into Thorntons!
When I was little I loved reading the Enid Blyton Adventure books and I'm THAT excited to see that they're included in this promotion - I might just have to buy them and relive my 'yoof', especially as the whole set has been reduced from £14.97 down to £3.74.
With box sets for little kids right through to those for older kids and Gruffalo gift books, there's bound to be something here that your kid(s) will enjoy.
Thanks to Taswir1 over at HUKD!