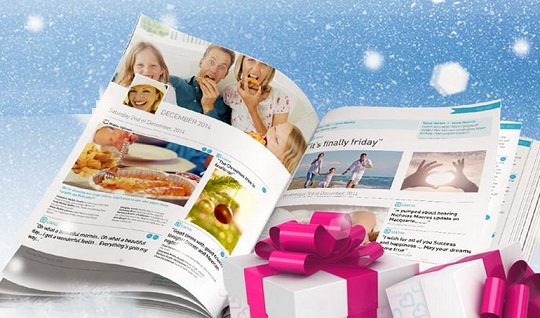 My Social Book has a special offer on with 30% off personalised year books right now. How it works is that you connect your Facebook account with My Social Book, and with less than five minutes worth of effort, can have your entire year, month,  holiday or group turned into a printed book. I have one from a private virtual event held earlier in the year, and it is really beautifully done.
Click here to preview your own My Social Book*
Promotion: 30% off on up to 3 items
Promotional code: ADCCFB8A8
It's all too easy to upload everything onto the computer and forget about it - I realised this week that all my wedding photos are lost, and after extensive flooding last Christmas, my photo albums are gone too - so it's really nice to return to a printed album from time to time. With My Social Book you have very minimal effort as it grabs all your statuses, pictures and uploads from a time frame you specify and creates an album for you. Of course you can also spend a bit more time and manually remove any messages, pictures or other bits you don't want in your album.
Prices vary, depending on what you're ordering. The book I bought earlier in the year was £11 delivered, while a quick look at my whole year in review - 500 pages in total - would amount to £84.90, but with the code it's down to £59.43. Still quite a lot though, so I'll go through and remove some statuses and images to reduce it to an amount I want to pay.
These are great keepsakes, beautiful memories, and fantastic gifts and the promotional code also works on gift cards which are sent as PDF's so you can send them on to someone else immediately.