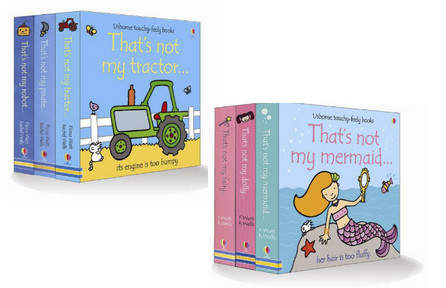 Parents with fans of "That's Not My" Books will know that getting 3 books for £4.99 is a fabulous price - normally they're at a minimum £3 and up to £6 a piece. I found one three-book set on Amazon for £29! There aren't any free delivery codes around for ELC, but you can click and collect. If you have to have it delivered you'll be adding £2.95 to the price.
There are two sets available, and if your child isn't restricted by gender stereotypes, I'm sure they'll enjoy either set.
The first set features "That's Not My Dolly", "That's Not My Mermaid" and "That's Not My Fairy".
The description of the second set says that they contain  "That's Not My Robot", "That's Not My Truck" and "That's Not My Pirate" although the image on the cover shows TRACTOR - it does not come with this set.
These books are brilliant for young children learning about textures and differences and using their fingers to learn about touch - I also know a few children with extra - sensory needs that highly benefit from these lovely books.
Thanks to BargainHuntress123 at HUKD