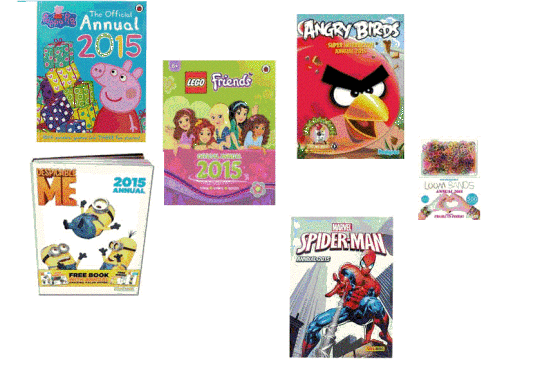 Argos has a great big list of Children's annuals for 2015 on sale for 99p each. Apparently they also have a few that stores like Sainsbury's don't have in stock, and you can also get these at Amazon, but with the £10 minimum spend for free delivery. These are apparently only available for store collection too, which at least saves you the postage pennies.
I remember getting Annuals from my gran as a kid. They were always black and white and had a particular smell. They didn't have any TV or movie characters that I can remember, but were always about adventurous girls exploring and having fun. Or so I remember them at least.
The Annuals from Argos are all about the brands, with books from Thomas the Tank Engine to Dr Who. Included in that spectrum is a LEGO Friends Annual, and a LEGO official one, as well as Angry Birds, One Direction, Peppa Pig, and a Loom Band offering too.
Definitely plenty to keep the kids busy for a while, and not a bad price at all.
Thanks to SECMAN at HUKD