Various 2013 Annuals £1.99 @ WHSmith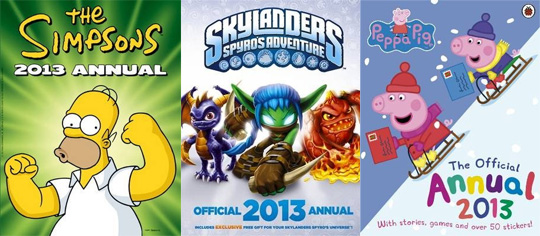 There are various 2013 Annuals up for grabs at WHSmith's - with free delivery to your local store - for £1.99 instead of £7.99.  There are others which are a couple of quid more than that too, if none of the £1.99 jobbies are the one you were hoping for.
As I'm writing this, I'm trying to remember why I loved unwrapping the coming year's Annual so much at Christmas time - Christmas just wasn't Christmas if there wasn't an Annual to unwrap!
I have no idea why  I liked them so much, or whether I flicked through their pages much during the months after Christmas; I really can't remember, but I DO remember being thrilled every year that I got one.
Skylanders - their 2013 Annual is one of the £1.99 gang (my youngest son, Edward, is a HUGE Skylanders fan), so is the Moshi Monsters one (Edward is obsessed with those little Moshlings too!), along with The Simpsons, LEGO, Doctor Who, Pokemon, Peppa Pig and Top Gear, to name just a few!
There's a Horrible Histories 2013 Annual (guess what?  Edward is a bit of a Horrible Histories nut as well!) but that's £3.99.
Have a browse around the virtual 2013 Annual shelves for yourself, there's bound to be one there that would make a great last minute stocking filler.
Thanks to justbuyit at HUKD