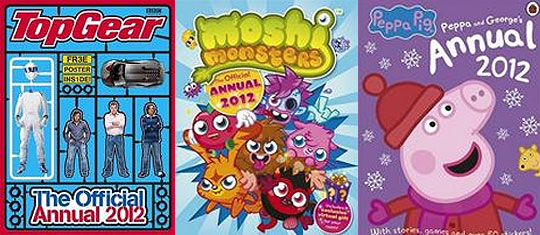 Christmas just wouldn't be Christmas without unwrapping an annual!
WHSmith are currently selling 2012 annuals for half price - either £3.49 or £3.99 instead of £7.99 or £6.99.
I used to love getting Annuals for Christmas when I was a little girl.
As I'm writing this, I'm trying to remember why I loved them so much and whether I looked at them much in the months after Christmas; I can't remember, but I do vividly remember being thrilled every year that I got one.
There are 77 different 2012 Annuals for you to choose from; if there's not a single one that will sort out a present or two for kids in your family then there's not much hope for you, or them, I'm afraid!
Chuggington fans, most football team supporters and young Star Wars padowans are all catered for.
The Beano, Barbie, The Simpsons, Horrible Histories and LEGO Annuals are also up for grabs - WHSmith is your 2012 Annuals oyster!
There are all sorts of delivery options available to you - see WHSmith delivery options and charged HERE  
Thanks to jackiemary69 at HUKD