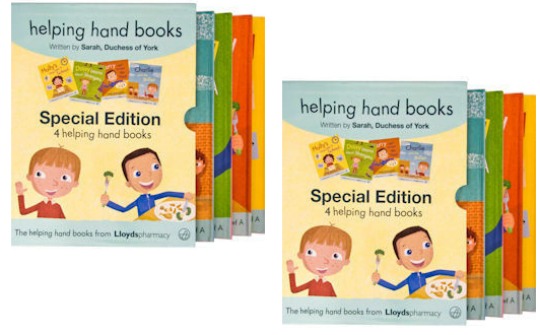 When I stumbled across these Helping Hand books written by the Duchess of York, Sarah Ferguson I was impressed. Not only do you get twelve books (some written by Child Psychologist Dr Richard Woolfson) for just £7.99, reduced from £20.10 BUT also because these books help parents address and discuss sensitive issues in a way that children will understand. Life is tough for children as well as adults but with these books, you can discuss things without being too serious.
Here's some of the book titles included in this great deal: Emily Moves Home, When Katie's Mum and Dad Separated, Daisy Learns About Strangers, Thomas and His New Baby Brother, Holly's First day at School, Simon Gets Better and Jack Takes More Exercise 
Some things are so tricky to talk to the kids about, no matter how close you are to them. No-one teaches you how to be a model parent or what to say to the kids if you split up from your partner. I have been through a break-up, we have moved house, I have had another baby with my other half following the split from my eldest twos dad. Life can be tricky and it's better to communicate as well as we can to help our kids through the tough parts.
You can click and collect from your local Lloyds Pharmacy for FREE or pay £2.95 for home delivery.