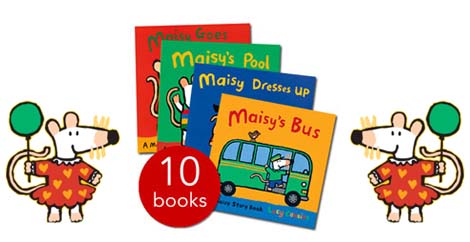 As it's World Book Day today here's a lovely little deal for youngsters; those lovely folks at The Book People are selling 10 Maisy Books for £9.99 instead of £39.90
I really like Maisy and her little adventures. Her best friends are Charley the Crocodile, Tallulah the Baby Chicken, Cyril Squirrel, and Eddie Elephant.
These 10 Maisy Books are great for triggering discussion with your little person; Maisy shows children how to behave in certain situations, all in a fun and accessible way, and can be used to encourage toddlers to develop good habits and 'be like Maisy'
These 10 Maisy Books come in a cute little carry bag, making them easy to take out and about with you - entertainment on the go; essential!
Titles include: Maisy Dresses Up, Maisy makes Lemonade, Maisy Goes Shopping, Maisy Makes Gingerbread, Maisy Tidies Up, Maisy's Pool, Maisy's Bathtime, Maisy's Bus, Maisy's Bedtime and Doctor Maisy.
If you split up this collection of 10 Maisy books then they'd make for great party bag pressies too, something a little longer lasting than a balloon and a badge - you can't leave out the obligatory slice of birthday cake though.
Add this code to your basket when you checkout - UAR040 - and you'll get free delivery too.
Happy reading!