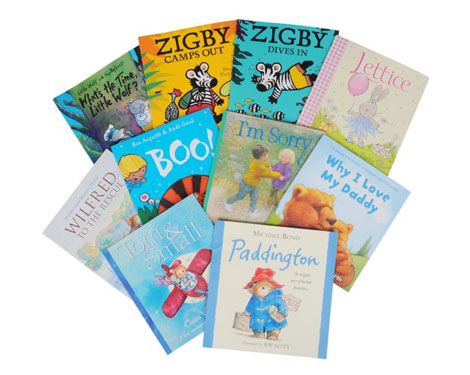 I can't resist a good book deal and these 10 children's picture books up for grabs for £7.99, at I Want One Of Those, is a good deal; their combined list price is £50.
Toys are great but kids can get bored with them pretty quickly; give me a book any day over toys.
Books are just so fanstastic;  stories are like gateways into other worlds and reference books et al are jam packed full of facts just waiting to be discovered.
Children's picture books are the perfect way to introduce your child to the world of books and reading, the illustrations are always amazing and can spark off all sorts of thoughts in your child's imagination.
They are wonderful for reading, and looking at, at bedtime or perhaps 'wasting' an hour together during the day when all the bells, whistles and trumpets on the toys get a bit too much.
There are 10 books included in this collection of children's picture books that your child will enjoy reading with you over and over and over; if you have a party coming up, a book in each party bag would make a lovely little take-home gift too.
The full list of the book titles are on the I Want One Of Those page (click the Click HERE link) and delivery to the UK is free.
Thanks to lucerysmum at HUKD