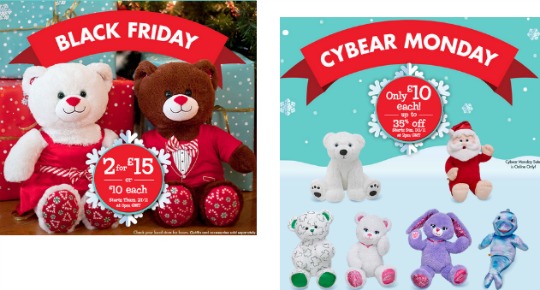 You may have noticed that some of these Black Friday deals are not lasting long at all, so it pays to be as organised as you can to make sure you don't miss out.
Build A Bear have released their Black Friday deals and they start at 8pm on Thursday night, when you'll be able to grab two Christmas Bears for £15 (Or £10 each)
The next offer will begin on Sunday at 2pm and as part of "Cybear Monday" you'll be able to save up to 35% on the six bears featured, including Santa, each costing just £10. Cybear Monday will be online only.
To have your items delivered from Build A Bear, it will cost £3.25 if you chose Royal Mail or £5.50 if you opt for UPS.
You can use gift cards online at Build A Bear, as well as any rewards you've earned from previous purchases.
Interested in grabbing these? Get those dates in the diary!