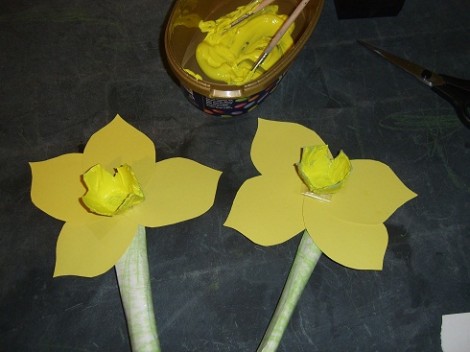 Daffodil's are the traditional flower for Mother's Day. There's a good reason for this. They are in flower, and they grow like, well, wild flowers. It seems like every patch of spare ground and park land has a little crop of yellow flowers growing there.
However, that doesn't necessarily mean you can or should pick them. Flowers left to grow will be there for the enjoyment of all, for starters. But also, if they're growing in the park, then you're not actually allowed to pick them. I know that the park rangers will probably turn a blind eye to a kiddie picking one or two on Mother's day morning. Just not armfuls of them.
How about getting the kids to make a daffodil instead? There's lots of ideas online for doing this. I found a template on one site - if you want to use this click HERE.
However, I don't have a printer so I had to find other ways of doing it.
Here's what you'll need for this project to make one flower:
Half an A4 yellow card
1 A4 sheet of green paper, or white paper and a green crayon
a cardboard egg box
yellow acrylic paint
sticky tape
scissors

First, cut out one of the egg cups from the egg carton. My son, and a friend who was over for a sleepover, were the guinea pigs for this craft.  Paint the egg cup in the yellow acrylic paint, both inside and outside the cup. Put it to one side to dry.
I tried to use green card for the stem, but this was too stiff to roll properly.
Roll the green paper it up into a long tube for the stem. I needed to help the boys out with this. Both of them had a good go, but it does take a bit of practice to roll up a tube of paper fairly small.
Tape them up and then flatten down one end. This is where the flower will go. You can add leaves to the stem. I didn't do that here, but if you've some green card it is easy enough to do.
For the petals, I cut an A4 sheet of yellow card in half. That was one half for each flower. I cut the half into quarters, so I had four equally shaped squares. I then trimmed this into a petal shape.
Arrange the four petals, and tape the back into position. Put the flat end of the stem on the back of the flower shape, and tape that down. Now, turn it over, get the egg cup you painted yellow before and glue it into the centre of the petals.
My son's friend was particularly excited to be able to give his mum a flower, it really was very sweet. This would make a lovely present from the kids to mum, or to grandma, on the 3rd of April. That's the date of Mothering Sunday this year, in case you've missed it!