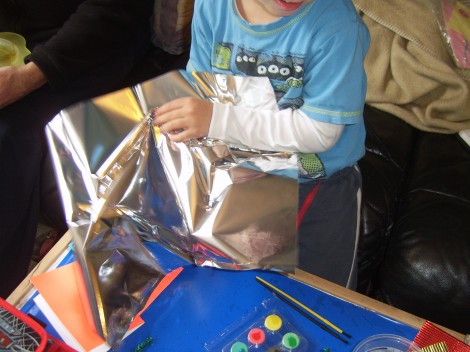 Actually this post was going to be all about The Rainy Day Box. But being covered in a foot or so of snow last week changed things a bit! The Rainy Day Box is one of my favourite childhood memories. It was just a box of stuff that my mum collected. When the weather was really bad, and we (my two sisters and myself) were going a bit stir crazy, she'd throw an old sheet down on the carpet, pull the box out and just let us loose with it.
That was the point of the Rainy Day Box. It wasn't about being crafty. There was no one thing you had to make. It was just a box full of stuff that you could do with whatever it was that you liked. Old nail varnish, ends of paints, scraps of scrunched wrapping paper, broken plastic bangles, bits of card, old pots.
I've been filling a box up myself with the same idea in mind, for my five year old son. Then the snow hit last week and school was closed for three days. Which meant, with the weekend, a total of five days at home. And no transport. Trains stopped, the car was snowed in and buses were cancelled (the downside to living on a hill). On the plus side we did a lot of sledging (the upside to living on a hill!). However, even if you're well wrapped up, there's a limit to how much time you can spend out in the cold.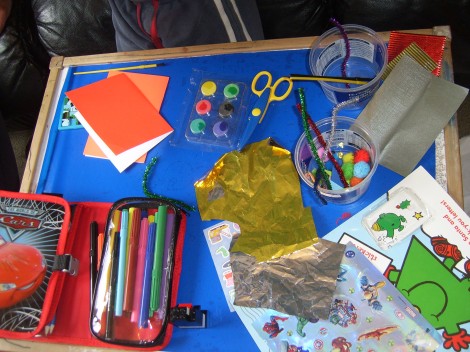 So I put the Rainy/Snow Day Box to the test. I felt bad actually, because giving it to him and seeing that he didn't at first get the concept I realised, he'd never just been allowed free reign like that. Every craft project we'd done had been directed in some way, even if he came up with the idea to start with!
What did he make? A passport for his favourite dinosaur! It was an activity that engrossed him completely for a good hour. Just look at the concentration in the photos! He got to use the big, grown up scissors, which he was pretty darn pleased about, and it was all his own idea and execution from beginning to end.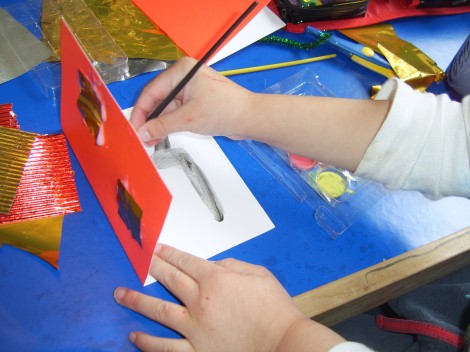 Because of a condition my son has, using his hands and fingers is more difficult than it is for other children. As part of his therapy we are doing something crafty every week. I think sometimes though it is easy as a parent to forget that making things can just be fun though!
What's in our Snow Day Box? Well, any odds and ends really. At the moment my one contains an old half-used paint set he'd got from a magazine cover (that sort of thing was one of my favourites when I was a kid, as everything in the box is totally disposable so you felt free to experiment with mixing the paints and it didn't matter if the colours ended up looking revolting. You didn't feel like you'd wasted anything in the process as it was all stuff that would have got thrown out anyway). As well as the remnants of gold wrapping paper, and some card that came as a stiffener in a picture frame, bits left over from a card making set he'd been given for his birthday. You get the idea!
And my son has renamed the box - he now calls it the 'Making Things Box'.