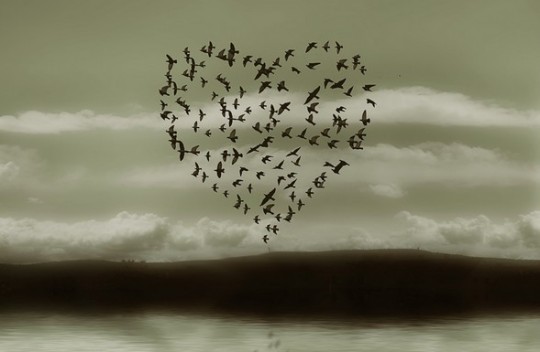 Lynley's feature on how to create utterly awesome Valentine's Day cards got me thinking. I am not a fan of the day either but I do like the idea of using it to do something creative and fun without spending money on cheesy cards or sparkly rubbish. So I decided to find some brilliantly unusual ideas that could make great Valentines gifts as well as translate into other presents for birthdays or Easter or Mother's Day.
The first thing I found was a site called Fun Mats where you can take your child's artwork and turn it into anything from a coaster to a kitchen board or a mousemat. The original idea behind the site was to help PTA's raise funds for the schools but you can now make products of your own as well. The products are made here in the UK, are really well priced and you end up with an awesome memento or pressie that will last you a lifetime.
You need to order their drawing frames free of charge, do a drawing and then send it back to them and they'll create whatever it is you want from it. The prices range from £3.45 for coaster to £14.45 for glass kitchen boards. Very reasonable prices for awesome gifts.

Next up is something I found on the Warburtons site. Yeah. They have entered the "have a cool free recipe" world with some really tasty ideas for kids to make and bake. The recipes aren't hard to make and my personal favourite are the little pizzas.
These differ from your usual homemade pizzas in that they are made with Wraps instead of dough giving them a thin-base pizza texture and taste. I've made them twice now and I love them. You need two packets of Warburton's Squareish Wraps, tomato puree, peppers, tomatoes and mozzarella cheese. You can add any topping you like and, for Valentine's Day, cut the peppers into hearts or write I love you.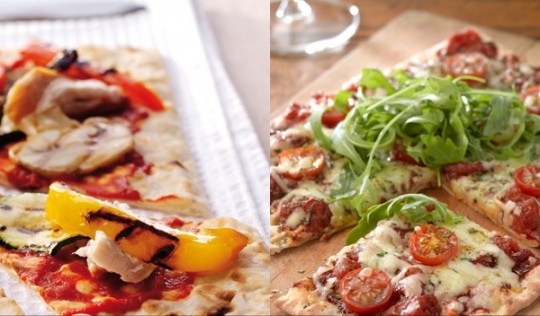 These make a tasty snack for lunch and the little ones will have such fun making them and seeing how their creations turn out. Sadly my daughter's insistence on writing the words in cheese resulted in a rather gooey untranslatable mess, fortunately she was too busy eating to care. Check out their other recipes and ideas online.
If you have a little girl (or boy) who loves having cool hairstyles or, like at my daughter's school, have a weekly crazy hairdo competition, then this blog is the place to go – Adopt a Do. They have a ton of ideas to create crazy hair and this video will talk you through making two enormous hearts. The design looks hard to do but is dead easy as I can do it and I am rubbish with hair.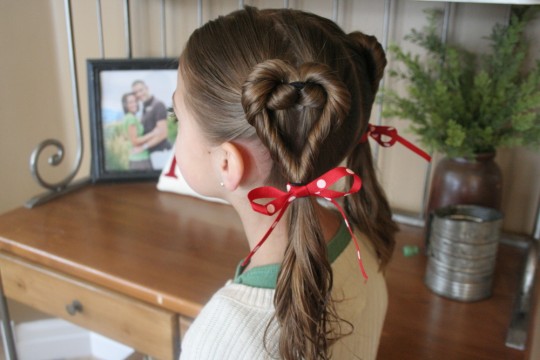 For those of you who do love Valentine's Day and want to make a real day out of it without spending much cash why not turn the day red in the simplest of ways. To start off, make breakfast pancakes in the shape of hearts and serve them with clotted cream and strawberry jam. Dinner could be spaghetti Bolognese, all dark and rich and red, with a glass of red wine. Paint your nails red, pop red food colouring into a glass of milk and write silly love messages on notes to stick around the house.
All these ideas use ingredients and items you already have at home but take them that little bit further to create something special.
And on that note, I could never let the opportunity to hunt down gorgeous bakes and makes for Valentine's Day go by. No way.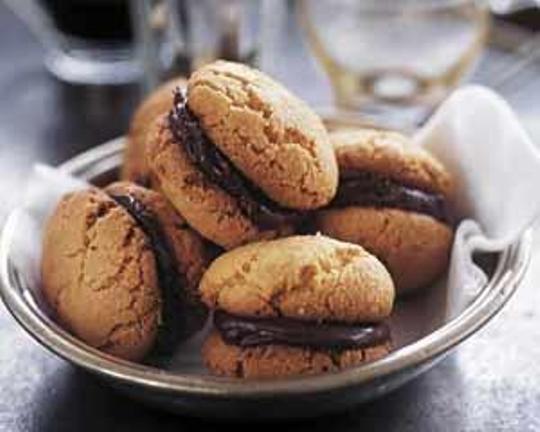 The first one makes my mouth water just looking at it and it is easy on the wallet and time. Chocolate Mocha Peanut Butter Marble Cake is an easy bake that isn't necessarily Valentine's specific and uses simple ingredients.
Good Food has an entire section dedicated to Valentine's Day food and in the Valentine's Baking section I found my true love – Ladies' Kisses. Stuffed with Nutella (oooohhhh) and fabulously easy to bake, these biscuits will taste scrummy with coffee and wrap up nicely in tissue paper as a sweet little gift.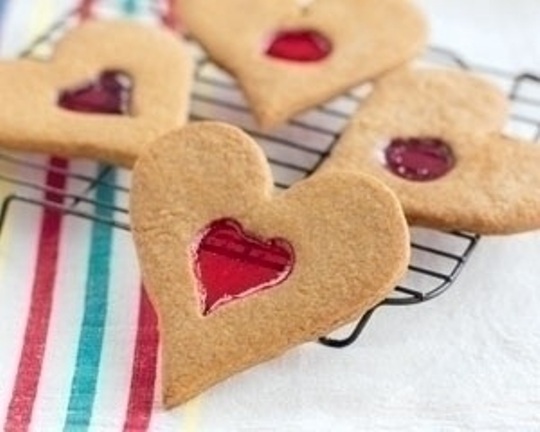 The other biscuit recipe worth mentioning is the Valentine's stained glass window biscuit recipe also on Good Food. These use very little time and basic ingredients and I love the simplicity behind the stained glass effect. And the site has a whole section for Valentine's Bakes for kids as well. Bonus.
Hopefully some of these ideas will inspire you or you've already disappeared to the kitchen to make that chocolate cake. Let me know what you liked or what you'd like to see more of!