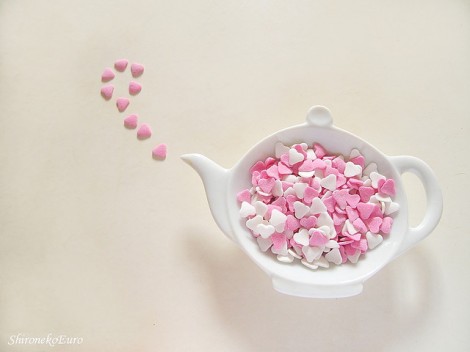 Valentine's Day is fast approaching and, if you're anything like me, you're probably sitting there going, "Oh dear, I haven't organised anything." Parenthood can make for a very busy life, and sometimes the little romantic moments get knocked to the side.
Instead of sweating over a big present or a dramatic gesture for Monday 14 February, here are some delightful ideas that you can use to spark the romance in your life no matter what time of the year it is.
Hearts and Films

The nights are cold, the wind is howling, the rain is dripping down. Why venture out into all that (and pay for a sitter!) when you can capture the mood at home.
Nab some classic movies from LoveFilm (they have some great special offers on at the moment) such as The Philadelphia Story, Ghost, Moonstruck, Like Water for Chocolate, and Casablanca. Even he will appreciate these.
Baked Hearts
If you love a good cake and enjoy pottering around in the kitchen, why not whip up a scrummy cake to enjoy with your movie? I recently uncovered an ace website that features loads of cake recipes for all occasions and they happen to have a stunning Valentine's Day range.
The recipes at Coolest Birthday Cakes are submitted by readers and I've road tested a few already. They work a charm.
With Love From

Lynley's feature on how to make ace Valentine's Day cards is a start for this one. Get some alone time and whip up a creation using things at home. You can also include your children in the experience and make gorgeous memories together.
I strongly recommend that for your card to your partner that you do something a little bit odd and different. There is nothing as good as laughter for creating a romantic mood.
Read All About It
Romance is one of the biggest themes in literature, ever. Obviously. So why not curl up and read each other passages from classic books that capture the mood and spice up the night. Back in the old days, reading to someone was a part of the courtship ritual and constituted a good night's entertainment.

So why not turn off the idiot box and turn to the pages of history for some inspiration and love. Some great titles to enjoy would be Romeo and Juliet by William Shakespeare (in case you weren't sure, ha!), The Great Gatsby by F. Scott Fitzgerald, Wuthering Heights, or King Arthur. If you have a Kindle, then many of these titles will be free on Amazon.
It's A Date
Whether you manage to get a babysitter in time, or not, you can still have a romantic date with your partner. Whip out the best tablecloth, take out the china, plan the menu and light those candles. If you happen to be at work all day – a pain having Valentine's Day on a Monday – then this can all be do

ne in a moment.
Distract them with a household chore, or tell them that they have to fix something, and then hasten to get everything ready. When both parents work, a beautiful meal that's taken hours to prepare is not really viable, but don't despair. Get your favourite take-out and present it with style.
So what if it's pizza or curry! The fact that you are sitting together, toes touching, in the soft light with lovely music, is more than enough to make the mood magical.
 Get  A Hobby
Oooh, now this one is particularly awesome in my book. You see, life can often get in the way of being with your partner. I know that my husband and I regularly end up working at night and it is really easy to slip into exhausted routines. So, we decided to get a mutual hobby.

The tango! We both rather liked the idea of learning to Tango, so this was an instant hit. No matter what your poison may be, why not chat about it and find one night a week to indulge in some fun together. There are usually loads of courses on in your local area and the prices are not too heavy. The only minor setback would be a sitter, unless you have helpful grandparents around…