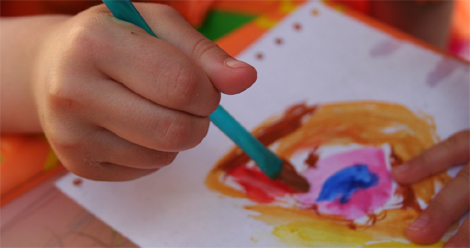 Today's guest post is by Rachel Pattisson. Rachel is a freelance writer and she can be found blogging about mummying at Really Rachel.
There were how many birthdays last month?!  If I'd bought each person a card costing just 99p, I'd have spent over £10.  Don't worry, this is not one of those wordy maths problems.  I'm just saying, you can easily rack up quite a bill on cards alone – not even mentioning presents – in only one month.  Which is why my latest craft project has a happy side-effect: it's cheap.
My daughter, who is almost three, loves being artistic.  She spends hours at her creation station producing wonderful* drawings, paintings and collages.  *It's ok, I know I'm biased.
The result is an enormous pile of priceless originals waiting to be – erm – recycled.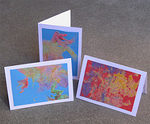 So that's what I do.  I recycle my daughter's paintings into greetings cards (pictured left).
Luckily, she is prone to making abstract splodge pictures in vibrant colours.  I simply cut out the best bits and mount them onto card blanks.  Voila!  It's easy to customise the final design to incorporate a 'happy birthday' or whatever, but I usually send the cards out unembellished.  I think they have a certain rustic charm.
The card blanks can be acquired relatively cheaply.  I recently bought a pack of 50 from Handy Hippo for £6.15.  That's 12p per card.  Even if I add on a few pence per card for the paper and paints that my daughter used, my overall outlay for last month's birthdays was less than a quarter of what it would have been if I'd bought the cheapest cards from the shops.
I love the fact that homemade cards are personal and unique.  Cards made using art from little people are even better, especially if you are sending them to adoring grandparents and aunties.  My daughter also gets to feel proud that her paintings have a genuine and important use.
Why stop at cards?  I give my daughter huge pieces of paper to draw on and then use it as wrapping paper.  And yesterday, I gave a bottle of wine labelled with a unique, hand painted gift-tag.
Recycled toddler-art cards are not only economical they are: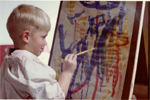 Eco-friendly
Fun to make
Completely unique and personal
Infinitely customisable
We've got a large stock of art on standby, waiting to be transformed into cards for any occasion.  Alas, there aren't many occasions in my calendar this month but that needn't halt production.  Notelets, anyone?
[Picture credits: nojhan, crimfants, stevendepolo]