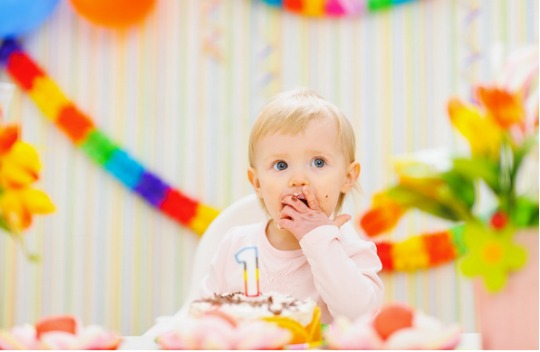 Following a request for advice on our Facebook page we have been putting our heads together and pooling our experiences to give you our top tips for Baby's First Birthday. We've had our fair share of highs and lows with kids birthday parties so we're sharing them with you - hope it helps! Here goes...
Keep It Simple: Chances are your little one won't have tons of little baby friends yet, and it's wise not to overwhelm them with a house full of people unless it's something they're used to, so most of us found that just close family was the best way to go with this 1st Birthday Party.
Timing: You know your baby's routine better than anyone, so pick a time when they will be awake and alert, but not too hungry. I found that after the lunchtime nap worked best for us, but pick what works for your routine.
Don't Get Too Many Presents: You may want to spoil your baby, and so might the rest of the family, but your little Birthday King or Queen will have no idea what is going on, and will lose interest in unwrapping presents very quickly.
Wrap Presents in Coloured Tissue Paper: I can't remember where I got this tip from, but whoever had the idea was a baby genius. If we have trouble unwrapping layers of thick wrapping paper and selotape then poor baby stands no chance. Wrap the gift loosely in coloured or patterned tissue wrapping paper and they will manage all by themselves. Cue big smiles and hand clapping.
Get a Ball Pit: For my first child we got loads of presents which he hardly even looked at, so with my second he got just 2 - his first ride-on toy (the JCB Tractor that Nada wrote about recently) and a ball pit with tons of balls. He played happily in the Pop Up Ball Pit in the middle of the room, whilst the grown ups talked about him and ate cake! Something like the Chad Valley Pop Up Ball Pit* from Argos works well and is fine from 6 months old.
Decorations!: It will be some time until baby understands the concept of Birthdays, but they will love looking at the decorations. Hang bunting and banners, and those paper swirly things that hang from the ceiling. They will love watching them spinning around, and will find balloons fascinating too. (Just test them with one before you blow them all up though - some are scared of them, and some bite them!) I have seen a gorgeous idea for photo bunting, with polaroids of baby hung up instead of flags, so that the grown ups can spend some time looking at how baby has grown over their first 12 months. To get themed party decorations try somewhere like Party Delights*which have masses of variety and choice.
Set a Time Limit: Make sure that everyone knows that Baby will need to nap/bath/bed at a certain time, so that they are fore warned that you will be ushering them out when baby (or you!) have had enough.
Big Cake?: If you want to get a big birthday cake then go for it, but it's the grown ups who will be eating it, though baby may have a go (or rub it in their hair like mine did).
Go Outside!: If the weather and your outside space allow it then outside is a fab place to have the party itself. You can pop on a bubble machine*, put some garden windmills in the flowers pots or the lawn (poundland!) and hang bunting along the fence or shed walls. Just bring baby's high chair outside and the birds will eat all the food that gets thrown about or dropped, so no hoovering either! This is soooo much easier with Summer babies though. A couple of footballs, hula hoops and water pistols and the entertainment is sorted too.
So, has any of this helped at all? You get lots of advice when you have a baby, so feel free to ignore us and hire a pony or have the birthday party at a castle if that's what you want. This milestone event is one that is for you, as baby will only know about it through your memories and photos, so do what you want to mark the occasion. Just make sure you have fun.