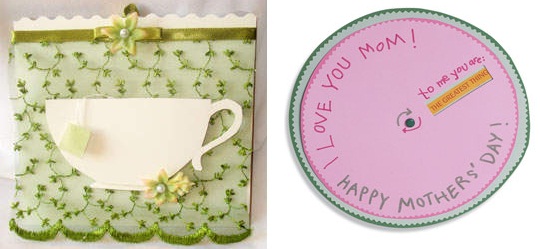 Mothering Sunday is on the 18th of March. That's THIS Sunday. The one that is coming up next. Six days from now. Yes that's right. If you're the partner of a mum you have six days to come up with something special, and don't forget your own mum.
I know what I like more than anything for Mother's Day. Something home-made like a card, and a lie in. Breakfast in bed goes down well too, even if it is toast as made by a six year old (either over done or under done, and soggy with jam). Especially if it is toast made by a six year old.
Yes, I think home-made cards are the key, if you've got the time. As well as being cheaper (although this depends on if you've got materials to hand already) they're just that little bit more personal. But you know dads and partners, if you can't get the time to do something home made, then it doesn't take too much to personalise the shop brought card. Get the kids to write it out, or if too young, stick their hand on it and draw around it. The important thing is to show that a) you've thought about it and b) you remembered to get a card!
The internet seems to be truly inspiring these days. Here's a few of the most innovative, unique, and possible to do by someone with no artistic abilities, ideas that I could find!
Cup of Tea card
If you drink tea then you'll appreciate the many powers of a cup of tea. It relaxes, soothes, and frankly there isn't a problem that can't be made better with a cuppa.
What I love about the Teacup Card craft is that it comes with a template for the card, and for the cup of tea design. Also it can be easily adapted to whatever you have to hand, even if that means colouring in with crayons. Although the lace looks pretty cool.
I'd also be tempted to adapt the idea so that the teacup acts more like a pocket, and you can pop an actual teabag in there for mum's cuppa.
How many ways do I love you?
You can say it all with this clever idea. It is the Wheel of Affection. Mum can turn the wheel and find out all about what the kids really think of her. Could be really sweet! And not too difficult to do. You can get paper fasteners at office/stationary supply shops. WH Smith probably do them. But you could also sew a button on the buttom card, and put a small slit on the top one. Not as even a turn, but it would be a really nice home made touch.
Say it with flowers
If you've got some flowery material or paper around, you can cut those out and use them to build up a flower collage on the front of the card. You can also buy little paper flowers from craft supplies stores. If you've no idea what a craft supply shop looks like, or where you'd find one, try a bigger WH Smith (like the ones you get in mainline train station or town centres). They often have a craft corner in the stationary section. Also department stores - ask the way to the fabrics or the haberdashery. You may find craft stuff there, or at least they'll be able to point you in the right direction.
Here's some really lovely ideas that you can adapt to your own ends. This one is has a bouquet of lilac flowers on it. Alternatively you could make your own paper daisies. I really like the use of wrapping paper or material as the background.
I also love this idea - it is called the Butterfly Card but you could adapt it easily. Kids and sticks. My son's rather passionate about finding them! You can have a bit of fun looking for the right ingredients in the garden and then get them to make the butterflies or flowers to stick on there. OK so it won't look as professional as the photo above but it is guaranteed to look absolutely fabulous.
If you make your own cards this year we'd love to see the pictures. Please do come back here and share!