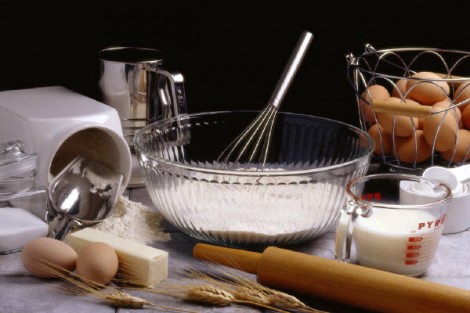 Warning! This review is guaranteed to make you want things that will make you fat. Stop now or sign the disclaimer that says you won't shout at me after you've eaten all of these and are afraid of going near the scales. These desserts from the equally delicious James Martin are indulgent and very cost effective.
We got four puds in the post for our Parent Panel to review. Were they easy? Could the kids join in? Were they great value for money? Let's find out...

I got the Chocolate Fondant mix and when I read the instructions I was a little worried. I tend to kill things when I cook them, it's definitely not an innate talent of mine, and I was a bit concerned that I wouldn't get this right.
The pack has three packets of ingredients and all you need to add is four ramekins (it took me a while to find some, let me tell you) and 150g of butter. The instructions are clear and simple and my toddler was easily able to help me out.
The only bit that took a while was melting the chocolate. For some reason this chocolate refused to melt properly and I ended up with a very lumpy mixture. This didn't affect the quality of the cake, though.
I found the whole process a little bit fiddly but I'm a self-confessed lazy chef, and I also hate washing dishes. You need to sieve and melt and mix and make peaks and fold. The latter being a huge failing of mine as I never got it right in lessons either. Still, my final mixture looked smooth and creamy and slid into the ramekins without protest.
I have to tell you that the mixture is yum! In my family we have a tradition of getting the little ones to lick the bowl (after mum has taken tax of course) and my daughter absolutely loved it. We have a stunning pic of her covered in chocolate from head to toe.
The dessert costs only £2.29 which is unbelievably good value for money. The final desserts were fine, although I didn't get the promised gooey centre but that could be down to user error. Definitely an excellent choice for a dinner event that will make you look like Super Chef.

One of our fellow mum bloggers, Nataliya (you can see her blog here) got the Sticky Toffee Pudding and her review was pure genius.
"Let's get this straight, I am not a cake master chef. In fact, I never make cakes so the kids and I were looking forward to trying out something new," she said, "This is one of my all time favourite desserts and I have high expectations, despite it being pre-packed in a box."
Nataliya said that she found the instructions simple to follow and that it took her a good 15 minutes to prepare the cake mixture.
"It says to add cream, which I didn't as I'm really not great with cream, so I just added 10g more butter," said Nataliya, "Apparently I'm not very good at following instructions either."
I have to add here that I am also a huge fan of sticky toffee pudding and that I was rather jealous that Nataliya got this one to review.
"It also asks that you use a square tin, like I said I am not a cake maker and I've only got one tin that's round and bigger than the 7" they suggest," she continued, "My cake ended up being wide and thin but this didn't take anything away from the taste. The sauce was incredibly rich, a little too much for my liking, however the rest of the family were asking for more."
Nataliya also felt that the price of £2.29 was so reasonable that this product was well worth the money.
Classic Lemon Tart Mix

Nataliya found this set to be a little intimidating at first, it also demanded a lot of extra equipment, this is her list. It was too funny to not include verbatim:
2 x mixing bowls – yep got them
1 x rolling pin – yep just got one a few months ago never used it though
1 x sieve - yes!
7" Flan dish – er, amazingly yes I did have this, again never use it!
1x measuring jug
1x Plastic bag – Yep I had to go shopping and get one!
Baking paper – yes
Ceramic Beans – you say what?
Rice – yes got lots of this
"The recipe needs cream, I couldn't avoid it here and the pastry bit scared me," she said, "I kept forgetting that all I had to do was use 30g of butter and rub it into the contents of the pastry sachet and add some water, but I managed!"
Nataliya enjoyed rolling the pastry and laying it into the flan dish with the rice on top.
"Of course, now I don't want rice, I want ceramic beans because they not only sound better but I bet they are less messy than rice," she added.
The filling is easy to make and you bake everything for what feels for a very long time and then you have to chill it for a further 1.5 hours.
"This is quite a lengthy dish to make. It took me about 30-35 minutes to prepare it all and then I had to wait for the pastry to cool and then again leave it in the fridge," she said, "BUT the results are great. It looks fabulous.  According to my family it tastes really, really nice."
She thinks the £2.29 price tag leaves this as a superb bargain but that you do need to be prepared to set aside a lot of time to make it and it's likely you won't want the kids around while you do it as it's quite fiddly.

Once again the ramekins were in demand. I wish that I'd received one dessert that asked for a flan dish as finding ramekins proved to be a complete nightmare. Needless to say I was in such a rush with this dish that I used an alternative which didn't seem to affect the final dish at all. I used ceramic vegetable dishes that were twice the size of a single ramekin each. I just amended the cooking time and heat to achieve, I think, the same result.
This pack makes four really yummy fruity puddings that I far preferred to the chocolate fondant. These were far moister and creamier and the family much preferred them. They were also very, very demanding. You need quite a few extras with this one including; measuring jugs, roasting tins, mixing bowls, electric hand mixers, spatulas and kitchen foil. You'll also need an egg and some butter.
The fruit has to be left soaking in boiling water for 15 mins and the cake base sachet needs fiddling to achieve a crumby consistency. I found this enormous fun to make and let my daughter get really stuck in. She was up to her elbows in cake mix and crumbs and she loved every single minute of it.
Again this comes in at the superb price of £2.29 which is really well worth it for this one. The desserts were really moist and fruity and completely addictive. There was so a fight for the fourth pudding in this three-person family!
And Finally
We have to say that these rate at least seven out of ten for value and quality. Perhaps the fiddly nature of the baking process makes them a little less easy for the harried mum but if you're planning a dinner party or a lush Sunday lunch, then these are just perfect.