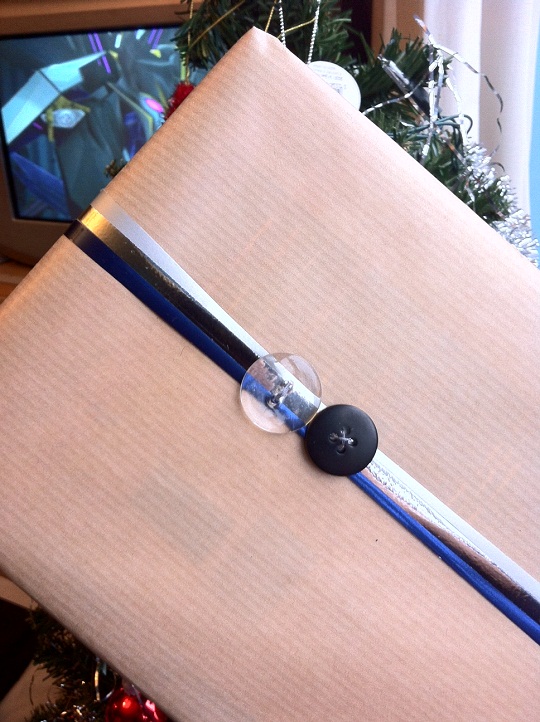 I got a bit caught out this year. One husband snowed under with work and one child with the flu. It has been an interesting run up to Christmas tied to the house nursing a sick child for five straight days. Without cards or wrapping paper to hand, and a need to hand out both cards and gifts to friends who were going away for Christmas, I had to get inventive.
In fact, you can see my gift wrapping in the photo above. For this I used some brown paper I had to hand, and ribbon I kept in my ribbon box (I save all odd bits of ribbon I get, you never know when it will come in handy). Having researched lots of fabulous ideas on the internet, I decided to go with buttons as my theme. I keep every spare button just in case.  Many for clothes that have long gone in the charity bin. And you know what? Buttons make me happy.
Who isn't cheered up by the sight of a button? And some pretty ribbon? So here's my ideas, and the other ideas I found, for making festive time that little bit more fun. And the best bit is, if you've already got a few odds and bods about in the craft drawer, most of these can be done for absolutely no money at all.
DIY Christmas cards using last year's
For this idea, I cut the front off some of the nicer cards I kept from the previous year. Above you can see the cards I made. I attached the front to paper cut to the same shape, and using a hole punch I secured it with ribbon and a couple of stitches. The button made it look a bit nicer, and hid the stitches along with the use of some ribbon. Just run along the side of a pair of scissors to make it go curly.
Reuse old cards to decorate presents
Now this is a pretty cool way to turn your old Christmas cards into a present wrapping decoration. The idea comes courtesy of  the Modern Country Lady blog, and you can follow the step by step instructions on the blog.
Wrapping from magazines and newspapers
This one actually came up in the school playground initially, and I wrote about it last year. It is such a good idea I had to include it again. One of the mums was talking about a friend of hers who uses magazine pages and newspaper inserts as wrapping paper, and she planned to do the same herself. I found some useful ideas on this blog, Made By Joel. Sounds good and you can just use it for wrapping like you would ordinary paper. But what about giving it a little artistic touch to make it seem a bit more special? One suggestion from mum of three Sue is to use ribbons or wool yarn, and decorate the ends with beads. She also had a really super cool suggestion, and a useful thing to do with the old newspapers you might have lying around. Make a paper rose to decorate the present. "I've adapted an online tutorial I found, and use big scrunchy pieces of newspaper, that the kids splatter with different coloured paints. I staple the middle bit, using two staples across each other like an X." says Sue. If you've got a copy of the FT or another coloured newspaper lying about, alternate with a petal from ordinary paper for a nice effect. The tutorial she used is from Yellow Blackbird creative blog, and can be found here.
Foil wrapping made from old crisp packets
Here's another idea for those who are stuck in a bind when it comes to wrapping presents. Crisp packets. No really, I'm not kidding. Keep your empty crisp packs, from the little ones, to the big packets. The kind that have the shiny insides. I found this done online on Martha Stewart's website of all places, although the page is no longer there. One of our PlayPennies parents suggests that you cut open the bag along its seam to reveal the shiny white or silver inside. Flatten the bag, then give it a wash with soap and water. Let the bag air dry, although I would probably give it a bit of a dry off with a cloth too so it doesn't dry with water marks on it.
Old road maps as wrapping paper
I love this idea so much it almost hurts. Old road maps as wrapping paper. It just looks so fabulous. For ideas on doing this check out this Paperblog, and also this website - it is in Spanish though, but the idea is easy to decipher from the photo.
Fabric instead of paper
Use fabric. Cut up old clothes, and use fabric glue to stick together, or look for cutoffs and samples when you're next in a fabric shop. Use ribbon or yarn to tie the material up.
What are your wrapping paper alternatives?
C'mon spill, what fabby secrets do you have when it comes to wrapping presents? Enquiring minds are desperate to know!