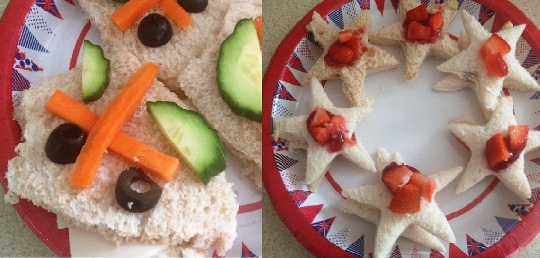 Kingsmill recently sent me a copy of their brand new recipe book. It's a very unusual one. This was created by kids from across the UK who all entered a competition to create sandwiches that make lunchtime fun. The Fun Lunch Recipe Book is entirely free to download and each idea was created by the regional winners who range across a ton of different age groups.
I nabbed the book, chose the ideas that I wanted to copy, grabbed a ton of Kingsmill bread and forged ahead. The Jubilee Stars you see above were a copy of the gorgeous Sandwich Rings created by Molly Gilbert, age 12. She used cookie cutters to make her awesome circle sandwiches but we only had a star, so that's the way we went. We added a dollop of raspberry jam in the middle and topped them with chopped fresh strawberries. Yum.
The bread we used was a combination of the 50/50 and the plain white and both were quite hard to cut into shape as they were so fresh and soft. We were making our sarmies for a school Diamond Jubilee picnic today and my daughter had so much fun creating these stars and shields. She also didn't need breakfast as she pretty much ate one of her own creations for every three we put on the plate.

Next up was our copying the Knight's Shield sandwich invented by Gabrielle Brooksbank-Eames. Only six years old and she created this awesome idea. Her shield actually looks like one (see on the left). Ours, not so much. In fact, ours look terrible. I did try, I really did, but I am not even remotely artistic.
Still, we stuffed them with chicken, used carrots, cucumber and olives as our shield markings and my daughter loved them. We used Kingsmill 50/50 for these.
The recipe book is fantastic and it is a lovely way to inspire kids to get involved with their food. The bread is ace too, my daughter has been munching on it solidly for two days now. If that isn't a good review, then I don't know what is, because she actually hates sandwiches!