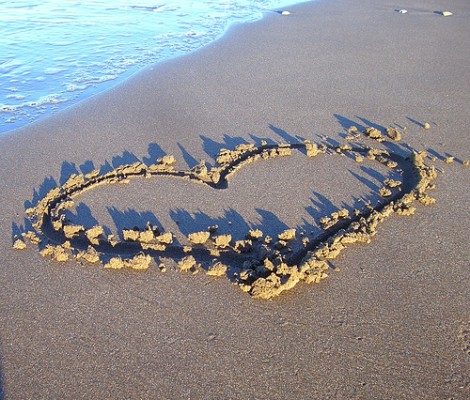 I doubt you'll have missed it, but February the 14th is Valentine's Day. So that makes it roughly two weeks away. In our house, my partner and I agreed a long time ago that it would be cards only on this date. Presents are for birthdays and Christmas, and romantic gifts should be spontaneous. Going out to dinner is what we do on our wedding anniversary.
In many families, it is also a tradition to exchange cards or home made gifts with the children too. I got a card from my Dad every year when I was a kid, and loved it. Love doesn't just have to be of the romantic variety.
So I thought I'd have a go at finding some of the more unusual or interesting ways you could make a card or something similar for Valentine's Day. And here's what I found.
Doily Valentine Hearts
You can make these to give to people as cards. However, I love the idea that Jean from the Artful Parent came up with to make window displays. My son is still at that age where he loves putting up decorations, and one end of our lounge is nearly all glass, with French doors leading out to the patio. Perfect for putting these sun catchers. And all you need is tissue paper, and a sheet of clear contact paper (the sort you use to cover folders and so forth, I assume!).
New Cards From Old
One really simply idea, if you're in a long term relationship, is to simply give each other the same card each year. Lots of couples have a similar sort of tradition, and it is certainly eco-friendly.
A friend of mine recycles old cards. Her grandmother used to do this, and she has carried on the tradition. Catherine cuts the fronts off a couple of cards, and glues them to either half of a piece of brown wrapping paper that is folded in half. Then she takes a nice creamy piece of stiff-ish writing paper, and folds that into either half or quarters, depending the size of the cards.
Catherine then cuts slits, dotted down the middle seam of the brown paper with matching slits in the cream or white paper. She threads both halves together using a ribbon. Another reason for keeping all those little ribbons that come attached to various items during the year!
Cards from Cardboard
I wanted to have a go at making cards from things that I've got around the house. I wasn't having much luck finding inspiration online until I came across Crystal Jeffery Rieger's blog. She usesd craft card to make these simple but beautiful creations. I have been keeping all those smaller boxes that come with things like telephones, or office stationary in them. Using a stanley knife I've cut out some shapes that are pretty much the same as what she's used here. I'll be using those, and her ideas for making use of bits of wrapping paper and material, to make up cards this year. If it works, I'll post the pictures!
PlayPennies mum Jenny says that she found this idea in a newspaper article many years ago. It was for Valentine's Day cards, but she applies it to any cards.
She uses plain white card for this. She cuts out another square of card, with the middle cut out, to make a frame. This goes on the front of the card. Inside the frame she pastes a phrase cut from a magazine or newspaper. Take a look for headlines or opening paragraphs (where the type is larger) for anything that can be adapted to the purpose. It is better to do this than to cut out individual words or letters as these look slightly sinister (like ransom notes!).
Cuttings she's used in the past include 'the most important commitment', and 'love stays a lifetime'. The first from a newspaper story about the EU, and the other from a women's magazine.
A card that grows

They come up with some great ideas in the US. Possibly because Valentine's is so much more of a big event there. I thought these cards were really sweet though, and it made me wonder if there was a way of making your own.
Botanical PaperWorks make handmade green valentine cards that are made from post-consumer waste with embedded seeds inside. The idea is that, just as your love grows, so does the card. Most of the cards cost around $4.95 each.
The Plantable Love Valentine's Day card shown here is embedded with North American wildflower seeds. When you plant the paper, the flowers will grow and bloom.
Carve a card
How about this for a bit of a unique idea? If you've got some wood to hand, ideally a small branch pruned from a tree in the garden, but also a left over off cut of wood would do. Carve your initials in it. You could then paint the tree branch with something like silver or gold paint, but I personally think that it is nice just left on its own.
Or, if you don't have a garden, any spare wood to hand you could buy a kit insteasd. Now I have seen these before and thought they looked like a bit of fun - they're light weight pieces of wood that you can buy and carve a message on. You can even send them as postcards. They're available for sale on the Need A Present website for £4.99 each.
Tell us, what ideas do you have for giving your loved one a special message on Valentine's Day?