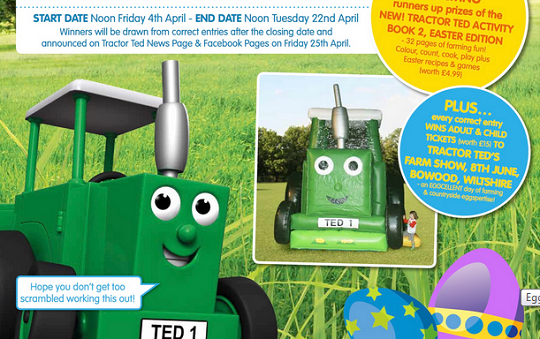 Aaaah, it is Sunday, a day of relaxation and wine in the garden. How blissful! Well, to kick off the week I've gone out to find some lovely free competitions for you to enter and enjoy. The first of these is the chance to win Bouncy Ted for a day.
To enter this competition by Tractor Ted you need to crack the questions on their home page before 12pm on Tuesday 22nd April. You have to find the colour of the number on the egg on 10 different pages of the website and the winner will get the Tractor Ted bouncy castle for a day and 20 runners up will each receive a copy of Tractor Ted's new Easter Activity Book. This should be a fun entry as it can also keep the kids occupied for a bit…
Next up is the chance to win a Dremel Kit worth over £419 courtesy of Crafts Beautiful*. The Dremel 4200 multi-tool makes its mark with the world's first accessory quick change system for multi-tools. It comes in a kit which includes four attachments: a cutting guide, a line and circle cutter, a shaping platform and the comfort guard attachment. There are 75 accessories which are perfect for projects which require cutting, sanding, polishing, grinding or drilling. We have three kits to give away!
Enter your details to be put into the draw before 02 May 2014.
Bringing all Mickey's pals together in one fun place is the Fisher-Price Mickey Mouse Fly 'n Slide Clubhouse. Mickey Mouse fans can join Mickey and Minnie in this flying, sliding, fun-filled world where imaginations have no boundaries!
They will love pushing down on the purple platform to watch Mickey fall into the trap door and down the chute, only to reappear at the top of green slide. While Mickey and friends play on the fun slide and seesaw, Minnie flies the plane around the Clubhouse.
The set comes complete with Mickey and Minnie figures, detachable plane and useful handle, so children can take the Clubhouse with them wherever they go. Six lucky winners will each receive a Fisher-Price Mickey Mouse Fly 'n Slide Clubhouse worth £30 (suitable from two years). To enter just fill in your details before 10am on 02 May 2014.
GOOD LUCK!
Thanks to Baz417 and marba01 at HUKD!