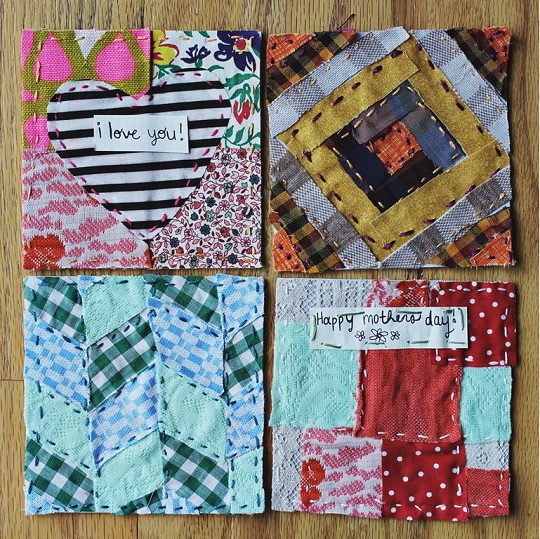 Heads up here folks. It is Mother's Day, or as it is more properly known, Mothering Sunday, on the 10th of March. I'll just pause a moment while you all put this in your diaries/set alerts on your phone's calendar app (whatever is appropriate for you).
Right, are you sorted now? OK let's get started. Here's the thing. You don't need to spend a lot of money for a mother's day gift for your children's mother (or grandmother) to get that wow factor. Home made is always best, and that doesn't mean it has to be difficult, or involve a lot of messy paint.
The internet, and our trusty PlayPennies parents, are here to save the day! Just read on to find out about some of the fabulous gifts you can give, which not only won't cost the earth but many of which can be done the last minute. Yes, that's right, at five to six on Mother's day morning instead of shushing the kids, slipping into the car, and getting a bunch of flowers from the nearest open service station, you could do one of these instead.
And it'll go over as well as a pair of diamond earrings. But, just for the record, the earrings are good too.
Start the day right
With breakfast in bed. First, slip out of bed quietly and get any little bodies that might have magically appeared in your bed during the night to tip toe out of the room. Honestly, tea and toast served with a cherubby face is all we ask for. And you know, if those little loving faces are fully dressed ready to go out, and you follow up a squealing, giggling breakfast with the words "right I'm just taking the kids out for two hours", you know we're not going to be upset. Even better, make sure our book/Kindle/iPad is to hand before you go.
If you want to be a bit impressive for breakfast, you could have a go at making this breakfast pizza. Something like this might be a lot of fun to get the kids involved with. It is pretty much what you make make for a cooked breakfast, and you could buy the pizza base in advance. The full recipe is here.
Classic idea, unique execution
The thing with a bunch of flowers is that you're safe. You know you can get some quickly, they look good, and most people like them. And the same with potted flower, which you can buy at most supermarkets these days.  All in you're looking at less than a fiver, but you don't want your gift to scream oops I forgot to buy/plan/organise something.
So get yourself a nice little bunch of something cheerful and put them in an interesting container. Here's a couple of unique ideas. The picture above shows an interesting take on the traditional vase - decorated tin watering cans. You don't need to get tin ones - little metal ones (look in the gardening/seasonal items aisle at the supermarket) or plastic ones could work too.
What this blogger has done that makes it a bit special is decorate the watering can, and you can find the instructions here. She's used something called Modge Podge. Which, if you're not already using and you like crafts, you should definitely look up. However, you can achieve the same result using acrylic varnish, or just good old PVA glue (if it isn't going to be actually used outside, but is more an inside decoration). Dads and partners who don't usually do the crafty stuff - ask your kids where it is kept!
I would go with letting the kids pick pictures out of magazines, or getting them to draw a picture of them with mummy, and then glueing that on to the pots.
And you know, plain terracotta plant pots with the kids sticky paint handprints on them are often a winner for grandmother's too.
So all you have are some building supplies?
Then use your imagination, or better if that's as crap as mine is, go on the internet for ideas. This one is, I think, genius. If you want to go for that wow factor, and have some PVC piping left lying about from the last plumbing job, then give the idea pictured above a go. You can find instructions here.
Breakfast sorted, what about the card?
Home made is always the best, and it really doesn't matter how rubbish the final product is. In fact, the more bodged together it looks, the better. You don't absolutely have to use card, a plain A4 sheet of paper you've whipped out the printer is a good starting point. Have a look around at what you might have to hand though. Make flowers out of newsprint. Draw around the kids hands, get them to colour in with crayon, then stick on another sheet of paper.
I came across a lot of rather good looking card ideas using watercolour paints. These can be quite effective, aren't too messy to do, and chances are your child will have a dried out tray of these somewhere.
My favourite idea for doing one of these is to do blocks of colour like the photo above, then use either a wax crayon to write the words on first - the watercolour paints just slide right off it. Or cut out the letters M U M from a magazine and stick on the front.
If you're feeling a bit ambitious, then the quilted card is a great idea. Pictured at the top, it makes use of those little scraps of material. I bet grandmother's would love on of those! There's a tutorial on how to make them here.