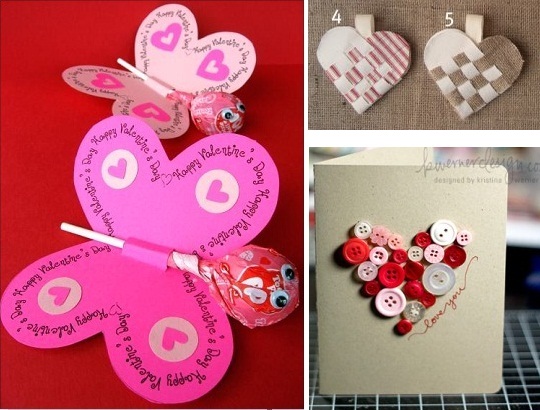 I loathe enforced holidays. Like New Year's. I hate that you're told you have to party. I'd much prefer to party because I feel like it, not because I am told to.
It is the same with Valentine's Day. Why all this emphasis on just that one day? Having said that of course, there's something really quite sweet about exchanging cards and telling people that you love them.
If you want to avoid the whole commercialism of it all, then make your own card. It also means something a little bit more, or at least that's what I think anyway. I've look around the internet and been amazed at some of the truly beautiful ideas that people come up with.
One for the kids
My girlfriend's and I had a long conversation recently about whether or not it's appropriate to do the whole Valentine's thing with kids. I think the day is about love, and the people you love. I don't see any harm in it myself. I'll be happy though if we refrain from the American tradition though of whole classes giving each other out cards. I have enough difficulty doing that with Christmas cards!
These ideas are brilliant though. It is sweet, literally and figuratively, and innocent. How can you not love a butterfly that says I love You, and gives you a lollipop?
This one is the Butterfly Valentine. The idea is simple, you make a butterfly shape, decorate, and stick some eyes on a lollipop, which is inserted to make the head.
The other idea is more involved. The Ladybug Valentine (yes I know it should be ladybird but this is an American site) is similar, but with lots more effort involved. Something to do if you REALLY want to impress!
Say it with buttons
Do you keep all those spare buttons that come attached to clothes? I do. I've never needed to use any of them, and I now have a box full of buttons. Most of which have outlasted the clothes they came from.
Before Christmas I found a fantastic way to use them as Christmas present decorations (see my feature here). Now I think I'll see if I've got enough of the right colours to try out this fabulous idea, The Button Heart Valentine's Card. There's even a video on the site to help you out.
Or if you want to avoid cards altogether try out this craft. Dad's might like it too - especially if you've decided to make presents this year. You just need to find out where she's put the spare button jar! It is the Button Heart Ornament. See the picture above - how cute is that?
Weave your card
These Woven Heart Baskets look easy enough, but I'm sure they're trickier than this blogger makes out! Still, they seem to be a classic craft for kids. So perhaps even I could make one. Even so I would have a practice first.
What I like about this one is that, as the blogger shows, you can recycle lots of different types of paper to make your baskets. In my feature on Christmas wrapping alternatives, one crafter had made good use of old map books. That had made me glad I'd still kept my old ones, and I could use some of the pages to make heart baskets too. They look pretty good in the photo!
Make a little gift
If you're looking for ideas for gifts to put in the card you could make your own sweets - I wrote about that here - or heart shaped crayons - I made some following this feature here (scroll down the page). I would suggest that you lightly oil the moulds, and as others have said online, I too have found that crayola works best. I've bought animal shaped moulds too and for little gifts have made animal crayons. I want to do something pirate themed so please let me know if you find any pirate themed moulds!
Since writing that I've found another website that explains this craft even better with some excellent photos. Have a look at Chef Messy blog.
These are just a few ideas, and as always, I'm really impressed at how creative people are. Are you planning to exchange cards or gifts on Valentine's Day, or do you prefer to celebrate in your own way and your own time?