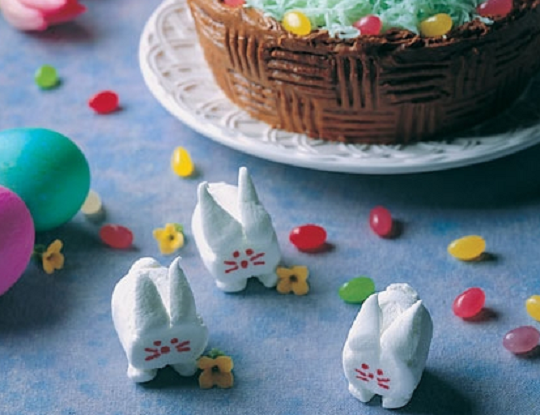 I am rather relieved I get to write about Easter instead of Mother's Day now. Phew. I got some amazing pressies and even recognised some from a deal or two I showed my husband. Pretty brilliant all round. What did you get? Anything epic? Well, in this story I am looking at some really easy and fun Easter treats that anyone can make for the festive season.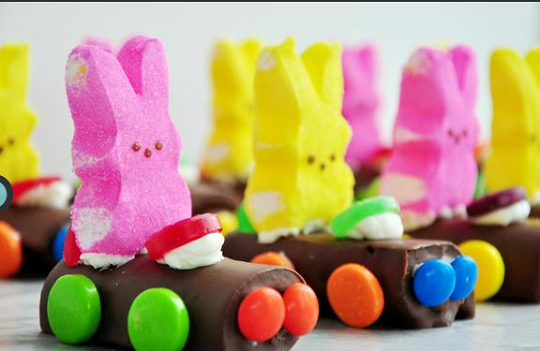 First up are the Easter Bunny Racers at Food.com. Are these not just the cutest darn things you've ever seen? I could just melt with the cute. Right to make these you're not going to need anything more than just swiss rolls, vanilla icing, marshmallows, and a few other bits and bobs. This site is one of my favourites because you can adjust the measurement unit at the top which makes it so much easier to get creating. What's particularly brilliant about this recipe is that you can be as creative as you want.
Next is Spoonful, another gem of a site if you ever need ideas in a pinch. They have these marshmallow bunnies that kind of take cute, throw it away and replace it with CUTE.  You can use these on cakes, cupcakes and chocolate baskets or you can just bung them around the table as edible decorations. They are so unbelievably easy to make that I wish I'd thought of it first!
The Easter Peeps Pots De Crème are next and they are a bit more complex that the recipes that I've written about so far. They are also from Food.com and need you to get some decorative marshmallows, like the chicken they have pictured, to round them off nicely. Do not even look at these if you are on diet, because they are pure evil in a pot. Honestly, just looking at them makes me hungry and fat.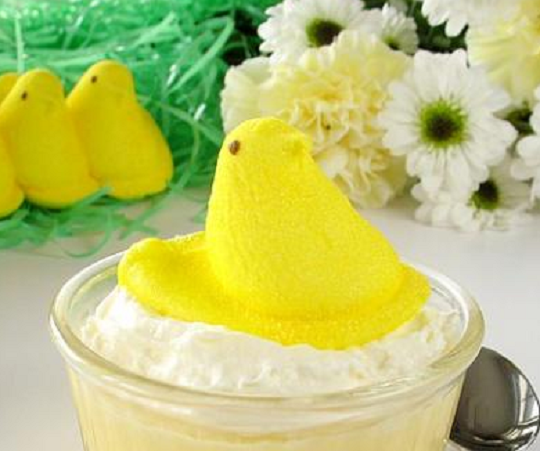 Then AllRecipes has chocolate orange fudge. Did you hear that ok? I adore fudge. It comes with a capital YUM. The recipe uses chocolate chips, condensed milk, pecans and zest to make a really tasty fudge that you can even whip up as a gift for someone. These are brilliant as table snacks or wrapped in foil and hidden about the garden as treats. Just don't leave them near me because I'll just eat them all. Sorry!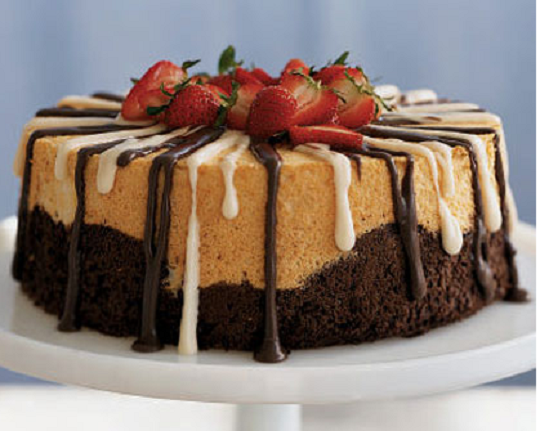 Black and White Angel Food Cake is next and this is apparently a slightly healthier Easter treat than the usual. I read the list of ingredients and I don't think this one is healthy at all. Tasty though. Very tasty. You will need to spend quite a bit of time creating this cake so don't expect to whip it up in a second, but it is very easy to make and hard to flop so it happily fits into our list of Easy Easter treats.
Hip-Hop Bunny Cake. LOOK at that photo, right? Genius, right? Sometimes I am just in awe of how creative people can be and the things they come up with. You can follow these easy instructions to make a moist and gorgeous carrot cake (what else!) that even sports fur like a real bunny. I would probably use white coconut personally, just so it looks even more realistic.

Easter Nests with Jelly Bean Eggs are made with chow mein noodles. No no! Don't retch and run away, they are super tasty! They do use corn syrup (boo!) but they end up tasty crunchy scrumptious and fun for the kids to fill with all sorts of different treats. Very low maintenance, this treat is a win for urgent Easter decorations that make you look epic but were dead easy to do.
Also from Food.com is this recipe. This one for Chocolate Cream Filled Easter Eggs is for those of you who love Cadbury's Crème Eggs. They are filled with this sticky, gooey, tasty centre that even looks like yolk and wrapped in a gorgeous chocolate shell. Your ingredients are easy to find and swap out – like the corn syrup for example – and you won't find these very expensive to make either.
Now there you go, a pile of swift and tasty Easter treats just for you to make at home. If you have any preferences about what you want me to find for next week, please tell me right here! OR give us your brilliant Easter recipes so we can share them with the rest of the PlayPennies readers.