Dusted Damson Flowers With 100% Extra Free For £24.99 @ Flowers Direct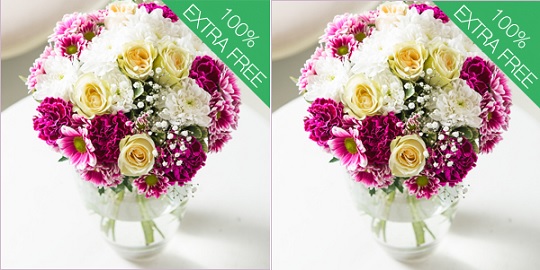 Get mum a gorgeous bunch of flowers for Mother's Day, it's not too late. The Dusted Damson bouquet from Flowers Direct is £24.99 but it comes with 100% extra flowers for FREE. Hurry and spoil mum before she realises that you nearly forgot.
If you've woken up this morning and suddenly realised it's Mother's Day (where have you been?) don't despair! You may not have made mum breakfast in bed or had a present ready to give her this morning but you still have time to get her some lovely flowers from Flowers Direct.
The Dusted Damson bouquet normally contains five white Roses, three pink and two white Chrysanthemums, five purple Carnations and fragrant Eucalyptus. It's a stunning display of fresh blooms that will look great placed in any mum's home.
With the extra 100% free you'll get double that, two bouquet's for the price on one, lovely. Hurry and order them before Mother's Day is over, mum will forgive you for being a bit late.